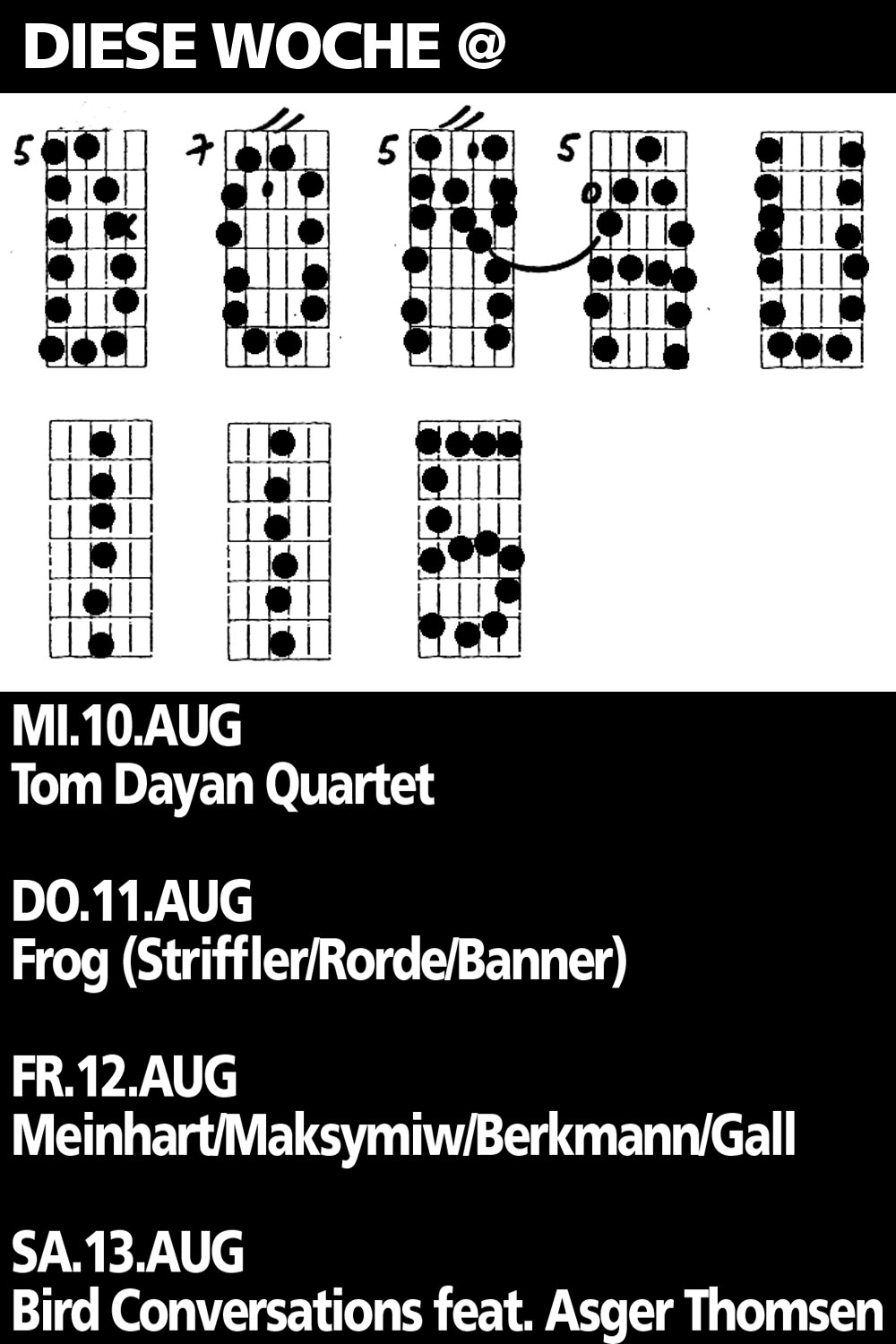 DIESE WOCHE IN DER DONAU115:
Mittwoch, 10 August >> Tom Dayan Quartet
Donnerstag, 11 August >> Frog: Striffler / Forde / Banner
Freitag, 12 August >> Meinhart / Maksymiw / Berkmann / Gall
Samstag, 13 August >> Bird Conversation feat. Asger Thomsen
MITTWOCH, 10 AUGUST
TOM DAYAN QUARTET
Gal Liraz – Saxophone
Gur Liraz – Guitar
Hugo Reydet – Bass
Tom Dayan – Drums
SPECIAL GUEST – Dan Cahn – Piano (ISR)
This quartet plays straight ahead jazz alongside original music.
Pieces played originally by John Coltrane, Joe Henderson, Art Blakey, Hank Mobley and many more.
Come hang out and grab a beer on a hot summer night at Donau.
DONNERSTAG, 11 AUGUST
FROG: STRIFFLER / FORDE / BANNER
Fabiana Striffler – Violin
Declan Forde -Piano
James Banner – Bass
Come and hear the sweetest, hottest and weirdest versions of pieces written by Béla Bartók, Olivier Eugène Prosper Charles Messiaen, Fabiana Striffler, Declan Forde and James Banner.
FREITAG, 12 AUGUST
MEINHART / MAKSYMIW / BERKMANN / GALL
New York based saxophonist Tobias Meinhart and Berlin based guitarist Alex Maksymiw put together a stellar band of some of the best musicians in Berlin.
They met during their studies in Amsterdam and kept playing together over the years. The band mostly plays their original compositions influenced by Contemporary Jazz but also Rock, Classical music and certain Singer/Songwriters. The musicians are all capable of creating the magical atmosphere of improvised music with flow and groove. Be there for a great summer night of jazz at Donau115!
Band:
Tobias Meinhart – Tenorsaxophone & EWI
Alexander Maksymiw – Guitar
Tom Berkmann – Bass
Peter Gall – Drums
more info:
http://www.tobiasmeinhart.com/
http://www.alexandermaksymiw.com/
SAMSTAG, 13 AUGUST
BIRD CONVERSATION FEAT. ASGER THOMSEN
Asger Thomsen: doublebass
Wojtek Bajda: clarinets
Marcello Busato: drums
Mia Dyberg: altosaxophone, objects
LISTEN:
https://miadyberg.bandcamp.com/album/bird-conversation
http://www.asgerthomsen.com/
Bird Conversation improvises soulful melodies with quirky rhythms. Combined with Asger Thomsens majestic bass-sound and clear improvising language the quartet is exploring frequencies, overtones and expressive solos. The expression is poetic yet with edge.
This concert is a part of the project "Improviser Summit" – "A yearlong concert series!" http://www.thecommunity-productions.com/improviser-summit/
Marcello S. Busato is a musician, composer and performer. He began studying classical trumpet and later guitar, piano and drums. Since 2002 he lives in Berlin, where he starts collaborations with many musicians exploring different musical styles but focusing especially on experimental music, free jazz, noise and radical improvisation. He composed and performed music for the radio, cinema, theater and dance.
http://marcellosilviobusato.tumblr.com/
Mia Dyberg is one of the new exciting voices on the european jazz scene. Her unique melodic expression emerges from wild sound experiments combined with scandinavian melancholy. 'Both Dyberg and Robertson utilized a range of ancillary sound-making devices and techniques, stretching into AACM -inspired passages of deep conversation, playful chatter and bluesy storytelling' —Clifford Allen, New York City Jazz Record
http://www.miadyberg.com/
The berlin-based bassclarinet/clarinet player Wojtek Bajda[PL] has interesting ideas and a deep and delightful expression, a real feast for the ears! Graduated in Germanny and Switzerland, [MMH/HKB/HKS]. Bajda's background in classical music informs his approach to noise and contemporary music.
http://www.wojtekbajda.eu/
Asger Thomsen (b. 1989) is a double bass player and composer in the field of improvised music with and without notated material. Thomsen has established himself as a strong improvisor in the Copenhagen scene(…) from alternative pop to free/experimental jazz and avant-garde.
http://www.asgerthomsen.com/