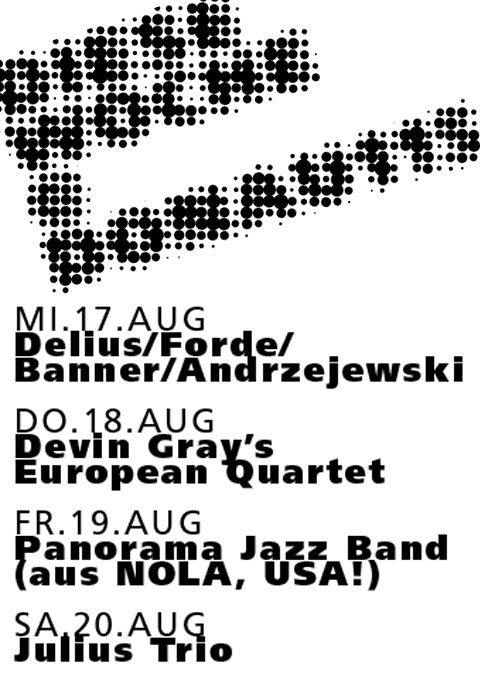 DIESE WOCHE IN DER DONAU115:
Mittwoch, 17 August >> Delius/Forde/Banner/Andrzejewski
Donnersag, 18 August >> Devin Gray Presents
Freitag, 19 August >> Panorama Jazz Band (AUS NEW ORLEANS!)
Samstag, 20 August >> Julius Trio
MITTWOCH, 17 AUGUST
DELIUS/FORDE/BANNER/ANDRZEJEWSKI
IMPROVISED MUSIC
Tobias Delius – Saxophone/Clarinet
https://de.wikipedia.org/wiki/Tobias_Delius
https://www.youtube.com/watch?v=YhKeqYDXgkc
Declan Forde – Piano
http://www.declanfordemusic.com/
James Banner – Bass
https://jamesbanner.com/
Max Andrzejewski – Drums
https://de.wikipedia.org/wiki/Max_Andrzejewski
http://maxandrzejewski.de/
DONNERSAG, 18 AUGUST
DEVIN GRAY'S EUROPEAN QUARTET
Devin Gray's European Quartet
Brooklyn based drummer and composer presents his "restless originals that are complex and intimate, brainy and engaging, and occasionally a bit outré" (all about jazz) with local Berlin heavyweights! A rare night for jazz in berlin not to miss!
Tom Arthurs-trumpet
Philipp Gropper-tenor
Jan Roder-bass
Devin Gray-drums/composition
Sony Interview:
http://www.sony.com/electronics/-jazz-drummer-composer-devin-gray-interview
FREITAG, 19 AUGUST
PANORAMA JAZZ BAND (AUS NEW ORLEANS!)
LISTEN:
http://panoramajazzband.com/
https://vimeo.com/124126119
https://soundcloud.com/panorama-jazz-band
Ben Schenck – Clarinet / Leader
Johan Bylling Lang – Alto Sax
Colin Myers – Trombone
Matt Schreiber – Accordion
Georgi Petrov – Banjo
Steve Glenn – Tuba
Paul Thibodeaux – Drums
Die Panorama Jazz Band vereint Klänge der Karibik mit Klezmer, Balkan Brass mit dem Funk der Marching Bands aus New Orleans und bringt Trad Jazz zum Tanzen – selbstverständlich rein akustisch. Bandleader ist der Klarinettist Ben Schenck, er lebt seit 1988 in New Orleans. Zur Stammbesetzung gehören der gebürtige New Orleanian und gefragte Schlagzeuger Paul Thibodeaux und der Akkordeonist Matt Schreiber, der Sousaphonist Steve Glenn ist in der Brass-Band-Szene überaus beliebt. Der Posaunist Colin Myers ist Spezialist für den frühen New Orleans Jazz, die Bandbreite des gebürtigen Bulgaren Georgi Petrov auf der Gitarre und dem Banjo reicht von Gypsy Swing über Tango bis Soul Jazz. Seit zehn Jahren spielt die Band regelmäßig im Spotted Cat Club auf der berühmten Musikmeile Frenchman Street in New Orleans, seit 2014 veröffentlichen sie online jeden Monat einen neuen Song. Zwischen Konzerten auf Festivals in Schweden und Dänemark macht die Panorama Jazz Band Station in der Donau115. Ben Schencks Duo-Partner an der Spitze des Septetts ist der dänische Altsaxofonist Johan Bylling Lang.
MEHR INFOS:
https://www.facebook.com/pages/Panorama-Jazz-Band-of-New-Orleans/276773429001372
SAMSTAG, 20 AUGUST
JULIUS TRIO
Julius Heise – Vibraphon
Martin Krümmling – Schlagzeug
Bernhard Meyer – Bass
Ton Ton Ton Fläche Waber SchüttelSchüttelSchütt Wabbelgroove Wabbelwabbelgroove leise laut laut leise Töne mehr Töne noch mehr Töne ein Akkord! und Fläche Wabern Wabbelgroove straight groove Bassssssssolo mit komischen Geräuschen Quieken Quetschen Quengeln die Bassdrum wummert dahin und da ein Glockenspiel und dazu immer noch Basssssssolo ganz lyrisch und fein und dann wieder grobschlächtig und rumpelig und achtsam und achtlos und insgesamt einfach ziemlich geil –
Melodie und Schluß.