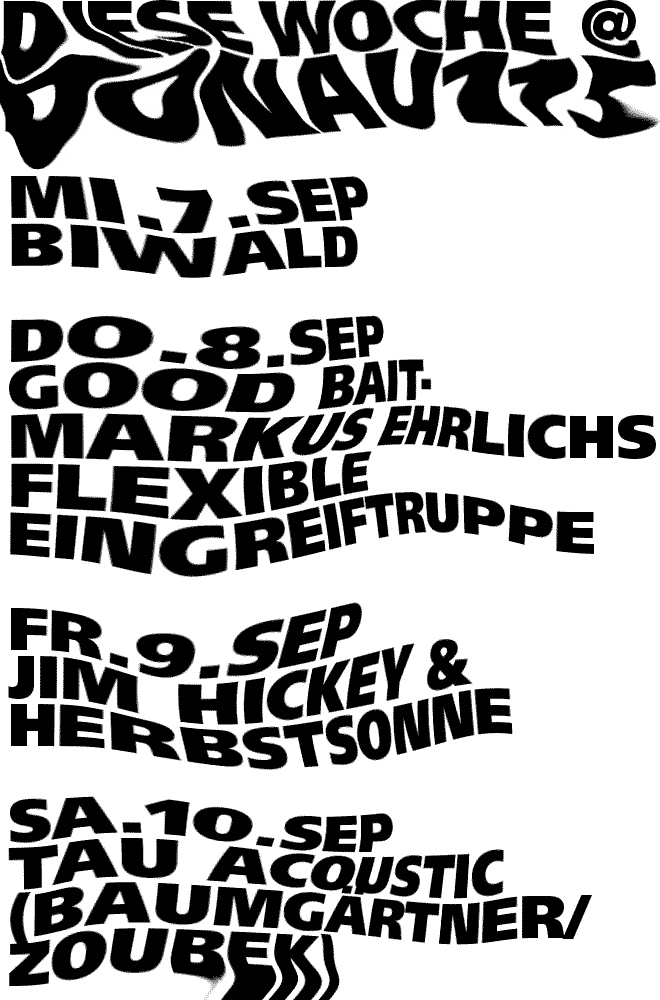 DIESE WOCHE IN DER DONAU115:
Mittwoch, 07 September >> Biwald
Donnerstag, 08 September >> Good Bait — Makus Ehrlichs Fleixble Eingreiftruppe
Freitag, 09 September >> Jim Hickey and Herbstsonne
Samstag, 10 September >> TAU (Moritz Baumgärtner and Igor Osypov)
MITTWOCH, 07 SEPTEMBER >> BIWALD
BiWald after the summerbreak!
we are going to play our original music
(biwald.bandcamp.com)
Julia Bilat – cello, voice
Daniel Schwarzwald – piano
Julia comes from Lublin, Poland, and finished her studies at the Music University in Warsaw. Since 2013 she is an active musician taking part in many projects and performing in Germany, Israel, France and Poland. She experiments with new techniques of playing cello, using the instrument also as a percusion, or bass and combining her vocal abilities .
Daniel comes from Jerusalem, Israel. He is a classical and jazz traind pianist at the Music academy of Jerusalem and Music Academy of Cologne. As a composer and musician he explores the bounderies of different genres, expressing his wide varaiety of influences, such as: Jazz, classical music, mediteranien folk music, latin music and more. Today he is settled in Berlin, though he's colabourating in different instalations and projects touring around Europe, Asia and the United States.
http://biwald.wixsite.com/biwald
https://www.youtube.com/watch?v=6bMiZsL_2xY
In the end of the concert a traditional berliner hut will be passed between the people
DONNERSTAG, 08 SEPTEMBER >> GOOD BAIT — MAKUS EHRLICHS FLEIXBLE EINGREIFTRUPPE
Uh, das wird Spaß machen!
Erlebt die Flexible Eingreiftruppe in Bestform: gerade für ein paar Tage im Studio, jetzt schon im Donau115, Spielfreude im Viererpack!
Mit ihrem neuesten Jazz-Quartett-Programm "Good Bait" präsentiert Markus Ehrlichs Flexible Eingreiftruppe "hard-swinging standards from the Golden Age of American Popular Song" in bester Straight-Ahead-Manier.
Seit April 2016 gastiert das spielfreudige Quartett um Markus Ehrlich (Saxophon) regelmäßig im Donau115 ("one of the best jazz clubs in Europe" – Adam McCulloch, The Guardian UK) in Berlin-Neukölln.
Mit Johannes von Ballestrem am Klavier, dem aus New York zurückgekehrten Kontrabassisten Tom Berkmann und Philipp Schaeper am Schlagzeug hat Markus Ehrlich ein Quartett aus alten Freunden um sich geschart, und sie meinen: "Das ist die Musik, mit der wir unsere Liebe zum Jazz entdeckt haben, und das wollen wir gerne teilen!"
Markus Ehrlich – sax
[ www.markusehrlich.com ]
Johannes von Ballestrem – pno
[ www.johannesballestrem.de ]
Tom Berkmann – bass
[ www.tomberkmann.com ]
Philipp Schaeper – drums
[ www.themajorminors.de ]
www.flexible-eingreiftruppe.com
Von der Unmöglichkeit, Markus Ehrlichs Flexible Eingreiftruppe zu beschreiben
Sie sind der Inbegriff der variablen Besetzung. Markus Ehrlichs Flexible Eingreiftruppe hat sich dem Reiz des Unvorhersehbaren verschrieben – bei der Stückauswahl, beim Erarbeiten neuer Programme und bei der Zusammensetzung der Formation.
Spiritus rector und Kopf der Combo, Markus Ehrlich, hat seine musikalischen Freunde um sich versammelt und behält beim Arrangieren, Orchestrieren und Intonieren die Feder in der Hand.
Sein Kollektiv besteht aus 20 Musikern, die seit bis zu 8 Jahren miteinander auf der Bühne stehen. Ihre Besonderheit ist das gemeinsame Credo – leichthändig, kühn, unberechenbar. Man hört ihnen den ungeheuren Spaß am Spiel, am Ausloten neuer Sounds und Formate und am miteinander heraufbeschworenen "Player's High" an, den dieses Selbstverständnis birgt. Sich immer wieder neu zu entdecken, ist ihre gemeinsame Mission.
Im Lauf der Jahre hat das Kollektiv dadurch eine unvergleichliche Dynamik entwickelt, die es im Blindflug miteinander musizieren lässt. Das Ergebnis ist ein famos energiegeladener Sound, der ins Ohr und in die Beine geht und zugleich eindrucksvoll beweist, dass diese Combo rundheraus liebt, was sie tut.
FREITAG, 09 SEPTEMBER >> JIM HICKEY AND HERBSTSONNE
Jim Hickey – a Maltese/American, spent most of his childhood summers in LA, which had a big influence on him musically. Listening to Pink Floyd tapes helped him at the age of 15 to pick up his own guitar. He then started playing live with bands, doing studio recording, and flying out to Berlin as a session guitarist. Hickey found himself a more permanent residence in Berlin, but it soon became clear that his heart was still resting in the sunny shoreline of the Pacific Coast.
Berlin's electronic underground scene hit Hickey hard: He started to experiment with synths and drum machines, and even began to hone his skills. With these new found techniques, his 'Railings' EP was born. Having recorded and produced it at his studio in Berlin, Hickey collected enough ideas to make an artistic statement of his own.
Listen:
https://www.youtube.com/watch?v=-3Wv2nfoc7A
Info:
http://jim-hickey.com/
Herbstsonne – is the musical journey that makes the autumnal leaf whispered by the wind and colored by the solar breath. The leaf transforms itself, tears up, reinvents,
breaks, multiplies, and turns into dust.
A Berlin based band from Chile, they move on the limit between a song and improvisation.
Claudio Squella on the guitar – voices
Cecilia Nercasseau on the keyboards – voices
Listen:
https://soundcloud.com/herbstsonne-615433873/zooz-methot-part-1
Info:
https://www.facebook.com/herbstsonneberlin/
SAMSTAG, 10 SEPTEMBER >> TAU (MORITZ BAUMGÄRTNER AND IGOR OSYPOV)
TAU acoustic.
Philipp Zoubek (AT) – prepared piano
http://philipzoubek.com/
Moritz Baumgärtner – drums http://moritzbaumgaertner.de/
Adam Pultz Melbye (DK) – bass http://www.adampultz.com/
Das international hochkarätig besetzte Trio wird sich mit freien Improvisationen aber auch Grooves und rhythmischen Motiven aus dem Repertoire der Band TAU beschäftigen. Ganz im Gegenteil zum eher elektronischen, produzierten Ansatz TAUs mit ebass und Synthesizern, hier der Ansatz elektronische Klänge und Shapes, akustisch mit Preparationen an den Instrumenten zu erarbeiten.