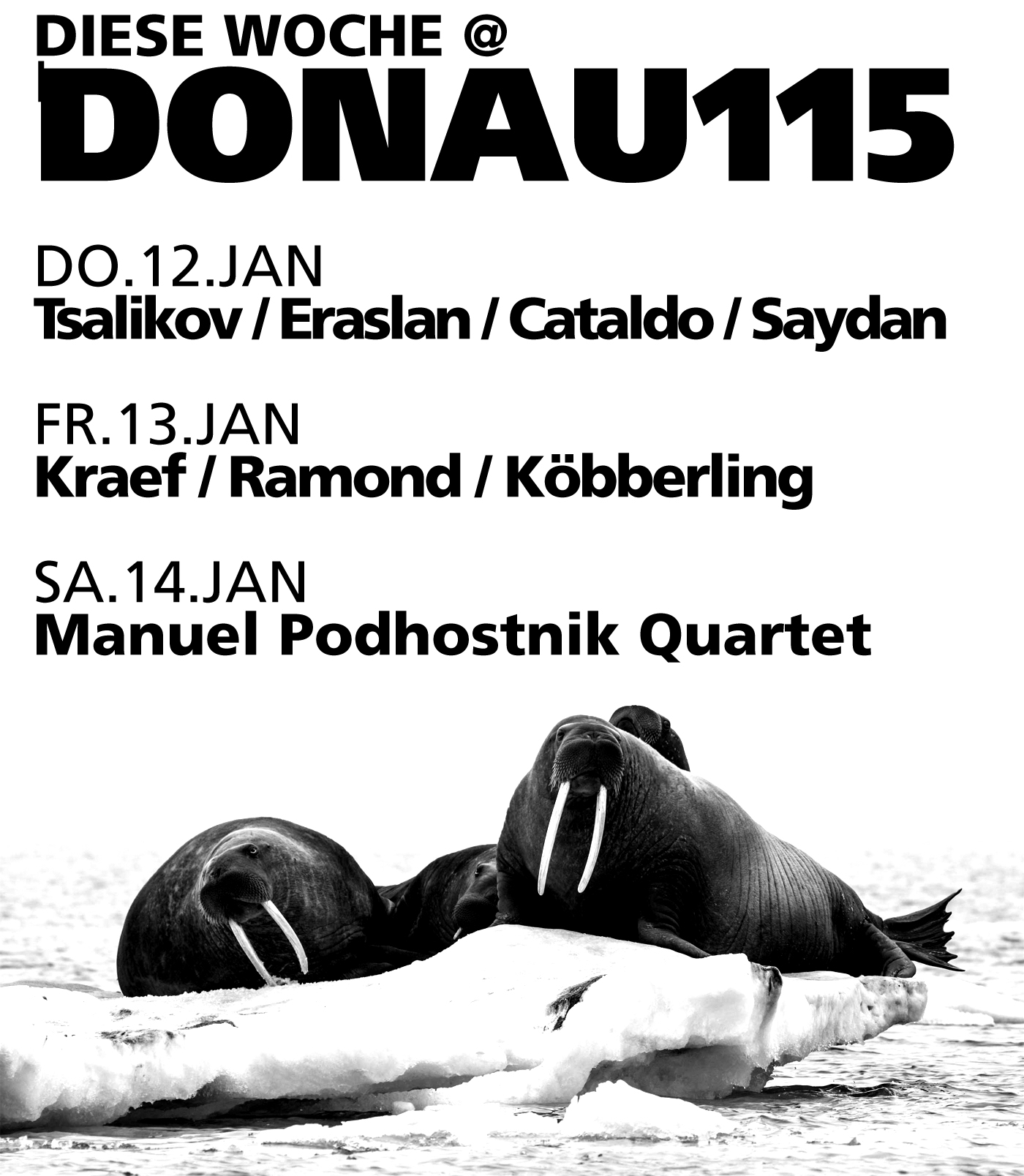 DIESE WOCHE IN DER DONAU115:
Donnerstag, 12 Januar >> Tsalikov/Eraslan/Cataldo <– HEUTE ABEND!
Freitag, 13 Januar >> Kraef/Ramond/KKöbberling
Samstag 14 Januar >> Manuel Podhostnik Quartet
HEUTE ABEND!
Donnerstag, 12 Januar
Tsalikov/Eraslan/Cataldo
Eldar Tsalikov, clarinet
Anil Eraslan, cello
Raffaele Cataldo, violin
Serdar Saydan, percussion
Melodies from Greece, Bulgaria, Turkey and the Caucuses.
Freitag, 13 Januar
Kraef/Ramond/Köbberling
Ben Kraef (ts)
Christian Ramond (b)
Heinrich Köbberling (dr)
LISTEN:
http://www.benkraef.com/html/listen.php
Ben Kraef is a German-Montenegrin saxophonist and composer based in Berlin.
Ben graduated from the University of Music "Hanns Eisler", Berlin. In 2007 he relocated to New York City on a grant from the German Academic Exchange Service (DAAD), and obtained a Master of Arts from The City College of New York in 2009.
In the past years Ben has won international acclaim in form of several prizes and awards, among these most notably the Biberacher Jazzpreis (2006), the "Concours International de Jazz de Fribourg" (2007), the Yamaha Saxophone Contest (2007), and the Billie Stoller Scholarship to an outstanding scholar and musician from The City College of New York (2008).
Ben's activities as a performer have included his membership in the renowned National German Youth Big Band (BuJazzO), where he was part of the concert line-up for a total of three years.
He has had the chance to perform throughout Europe, the Middle East, as well as southern Africa and Japan.
The list of internationally renowned musicians Ben has been performing and recording with includes Lalo Schifrin, Archie Shepp, Phil Woods, John Abercrombie, Fred Hersch, Gunther Schuller, Tania Maria, Jim McNeely, Peter Herbolzheimer, David Gilmore, Jeff "Tain" Watts, George Garzone, Herb Geller, Vincent Herring, Pee Wee Ellis, Tony Lakatos, Ari Hoenig, Lonnie Plaxico, Charles Tolliver, and Yoshiaki Masuo. Ben has also performed with several well-known pop groups, among these "Wir Sind Helden" and Joy Denalane.
He recorded two albums as a leader. The first one, 'Berlin – New York', was released in 2010 on ACT and features bassist John Patitucci, drummer Marcus Gilmore, and pianist Rainer Boehm.
His second record, 'Think of One' (shoebill music), was recorded in a trio setting with drummer Albert Tootie Heath and John Patitucci.


Samstag 14 Januar
Manuel Podhostnik Quartet
LISTEN:
http://skyed-music.bandcamp.com/releases
Manuel Podhostnik Quartet
Igor Osypov – Guitar ( UA )
http://www.igorosypov.com/
Tom Berkmann – Bass ( GER )
https://tomberkmann.com/
Manuel Podhostnik – Drums ( SLO )
http://www.skyed-music.com/
Manuel Podhostnik , auch unter seinem Künstlernamen SKYED bekannt , ist ein slowenischer Schlagzeuger , Musikproduzent und Songwriter.
Die Natur des Jazz in ihrer wesentlichen Kunstform ist für ihn entscheidend, um sich als Künstler auszudrücken. Seine Werke basieren auf Erforschung und Entwicklung mit dem Ziel, die mentalen und emotionalen Grenzen auf dem Instrument und in der Musik zu erweitern.