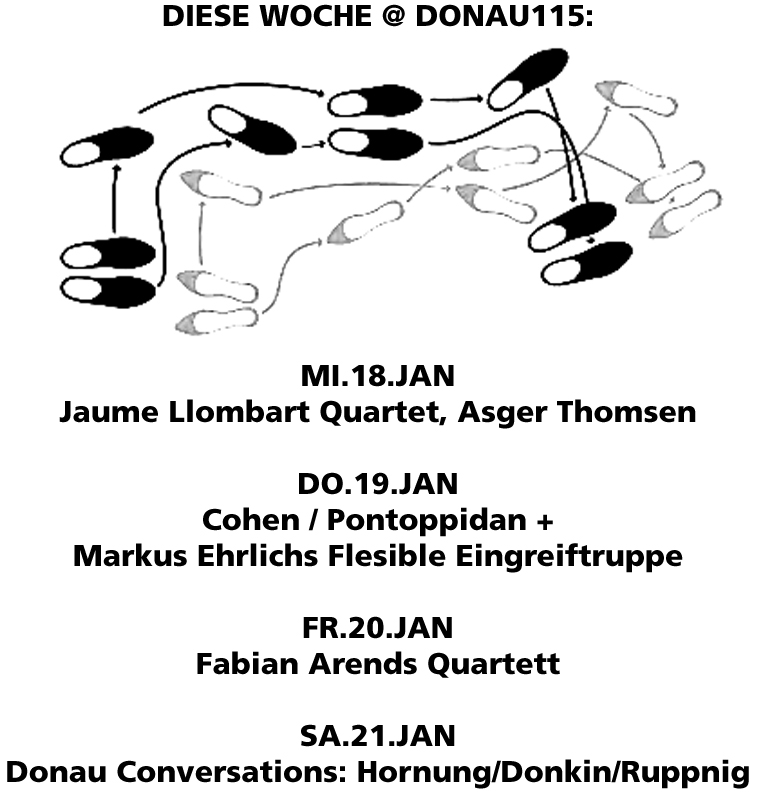 DIESE WOCHE IN DER DONAU115:
Mittwoch, 18 Januar >> Jaume Llombart Quartet and Asger Thomsen <– HEUTE ABEND!
Donnerstag, 19 Januar >> Cohen/Pontoppidan and Good Bait – Markus Ehrlichs Flexible Eingreiftruppe
Freitag, 20 Januar >> Fabian Arends Quartett
Samstag, 21 Januar >> Donau Conversations mit Hornung/Donkin/Ruppnig
HEUTE ABEND!
Mittwoch, 18 Januar
Jaume Llombart Quartet and Asger Thomsen 
Jaume Llombart Quartet
https://www.youtube.com/watch?v=k0WaJLlQzh0
Jaume Llombart – Guitar
Larry Porter – Piano
Andreas Lang – Bass
Joe Smith – drums
– – –
PLUS — don't be late! Show up early at 20:00 sharp for a special opening solo set by Asger Thomsen!
http://www.asgerthomsen.com/solo/
Donnerstag, 19 Januar
Cohen/Pontoppidan and Good Bait – Markus Ehrlichs Flexible Eingreiftruppe
Oh, yeah!!
Neues Jahr, neue Besetzung, neues Repertoire!
Markus Ehrlichs Flexible Eingreiftruppe hat wieder was Neues im Gepäck. Nach einem tollen Jahr und regelmäßigen Donau115-Konzert-Abenden mit der Quartett-Besetzung "Good Bait" geht's weiter mit dem ikonischen Sound von Trompete & Saxophon plus Rhythmus-Gruppe.
Mit Florian Menzel und Markus Ehrlich an Trompete und Saxophon und einer bestens eingegroovten Rhythm-Section aus Chris Colaço (pno), Tom Berkmann (bass) und Philipp Schaeper (drums) steht einem wunderbar swingenden Abend in "one of the best jazz clubs in Europe" (Adam McCulloch, The Guardian UK) nichts mehr im Wege.
Florian Menzel – trp
[ www.themajorminors.de ]
Markus Ehrlich – sax
[ www.markusehrlich.com ]
Chris Colaço – pno
[ www.themajorminors.de ]
Tom Berkmann – bass
[ www.tomberkmann.com ]
Philipp Schaeper – drums
[ www.themajorminors.de ]
www.flexible-eingreiftruppe.com
============================
Randi Pontoppidan Voice and electronic
[www.randipontoppidan.com]
Greg Cohen double bas
https://www.facebook.com/events/371865476511375/
The Duo of Randi Pontoppidan and Greg Cohen takes on the bold challenge of making improvised music with voice and double bass. The two veterans of improvisation began playing together last year. This experiment resulted in a dynamic duo recording (Space Geode) that will be released later this year. Pontoppidan and Cohen draw from nature and color to direct their sonic endeavours. Each performance is unique and uncontrolled. A musical piñata, of sorts. The love of sculpting sounds, melodies and pulses, makes this duo a visceral and buoyant soundscape.
Greg Cohen NY, lives in Berlin, is a remarkable bass player and composer who consistently finds himself in the right place at the right time. The right place tends to be alongside the likes of John Zorn, Tom Waits, or Ornette Coleman who utilize his services repeatedly. But his career is long and consistently varied and he' worked with everyone from Woody Allen to David Byrne, Elvis Costello, Bob Dylan, Lou Reed, Antony and the Johnsons, Elvis Costello, Laurie Anderson, Willie Nelson, as well as part of numerous improvisatory ensembles. He' considered something of a musicians musician having appeared on such iconic albums as 1980′ Heart Attack and Vine and 1999′ Mule Variations for Tom Waits and 2001′ Life on a String for Laurie Anderson.
Randi Pontoppidan DK, singer, improviser and composer. She works live with loop machines and other electronic devices. She uses her voice exploring musical landscapes and bringing forth new sounds. Her voice becomes the instrument. Educated at the Royal Music Conservatory in the Haag, Holland. Many years of collaboration with Sissel Vera Pettersen with whom she have the duo LIFT. Other colaborations with Thomas Agergaard, Simon Toldam, Martin Fabrisius, Morten Søndergaard, Jamaaladeen Tacuma. Randi also sings contemporary music with her trio Other Gardens – Linda Edsjo, perc and Jennifer Dill, flutes. Mixing composed pieces with improvisations and own compositions. She also touring around the world with Paul Hilliers ensemble Theatre of Voices, singing Steive Reich, David Lang, Stockhausen, Cage and Berio. Feb. 2015 she sang "Stimmung" by Stockhausen in Carnegie Hall, New York
Freitag, 20 Januar
Fabian Arends Quartett
FABIAN ARENDS QUARTETT
"LEVITATE" RELEASE-CONCERT
Fabian Arends / drums
Wanja Slavin / saxofon
Simon Seidl / piano
David Helm / bass
LEVITATE – FREI SCHWEBEN
Mit "Levitate" legt Fabian Arends sein Debut als Bandleader und Komponist vor. Mit seinen Quartettpartern Wanja Slavin, Simon Seidl und David Helm hat Fabian Arends Musiker und Freunde gefunden, mit denen er sich gemeinsam auf die Suche begibt – die Suche nach dem magischen Moment, wenn sie gemeinsam abheben und zu schweben beginnen. Das Resultat dieser Suche ist auf dieser CD zu hören. Eine Musik, die getragen wird von gegenseitigem Vertrauen und der Kraft der Improvisation im Moment.
Fabian Arends verbindet mit Simon Seidl und David Helm seit nunmehr 7Jahren eine enge musikalische Freundschaft. In den vergangenen Jahren spielen sie als Sideman in zahlreichen Formationen und Projekten zusammen. Daraus ist auf ganz
natürliche Weise ein gemeinsames musikalisches Verständnis entstanden. "Mit Simon und David verbindet mich eine tiefe Freundschaft. Ich kenne ihren musikalischen Background ganz gut und fühle mich unheimlich wohl mit ihnen zu spielen. Sie überraschen mich immer wieder und beleben meine Musik auf
ihre eigene Art und Weise. Sie sind ständig auf der Suche. Das macht es unglaublich spannend."
Mit Wanja Slavin tritt ein herausragender und eigenständiger Musiker dazu. "Auf Wanja bin ich durch seine eigenen Veröffentlichungen der letzten Jahre aufmerksam geworden. Er ist ein Musiker mit einem sehr eigenständigen Sound. Offenheit, Flexibilität und Sound sind für mich sehr wichtig. Wanja vereint wie die anderen all diese Eigenschaften."
Fabian Arends gelingt mit Levitate ein Debut von ausgesprochener Reife. Erschienen im Januar 2017 beim jungen Kölner Label KlaengRecords, dokumentiert "Levitate" eine Band, die Musik versteht als gemeinsame Sprache, als emotionale
Ausdrucksform des tiefsten Innern. Dabei bilden Kommunikation und Vertrauen das Fundament, über dem die Musik, getragen von der Kraft des Moments, frei schweben kann.
Samstag, 21 Januar
Donau Conversations mit Hornung/Donkin/Ruppnig
Ludwig Hornung – piano
Phil Donkin – bass
Mathias Ruppnig – drums
Donau Conversations is a monthly concert series presented by Berlin-based drummer Mathias Ruppnig. Each event will feature groups of varying styles and personnel, performing jazz standards, original music or free improvisation.
"For me, Donau115 is a place that allows new musical and personal friendships to form, as well as a place to experiment with innovative musical concepts in front of a respectful and attentive audience."