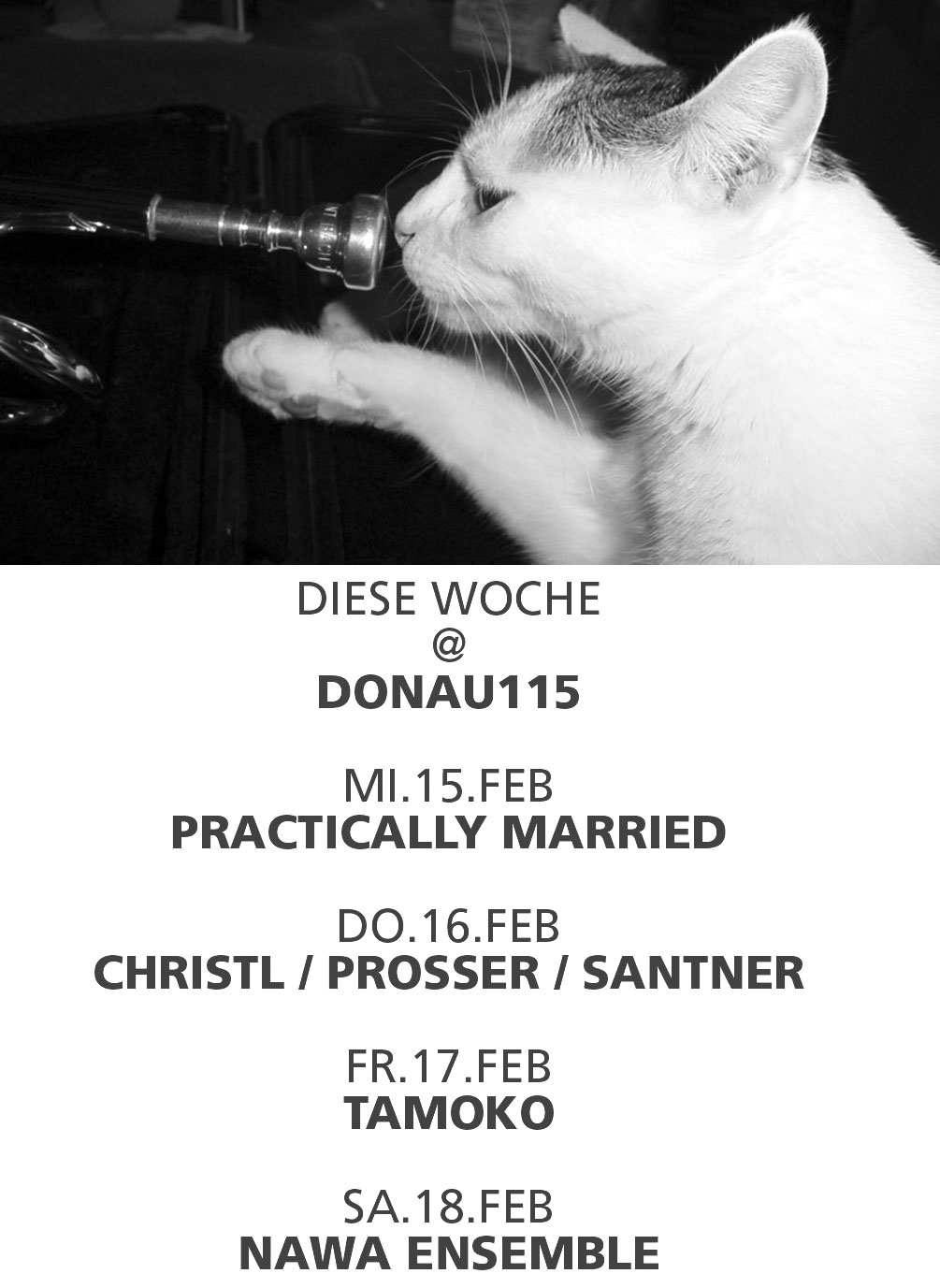 DIESE WOCHE IN DER DONAU115:
Mittwoch, 15 Februar >> Practically Married <– HEUTE ABEND!
Donnerstag, 16 Februar >> Christl / Prosser / Santner
Freitag, 17 Febrar >> Tamoko
Samstag, 18 Febrar >> Nawa Ensemble
HEUTE ABEND!
Mittwoch, 15 Februar
Practically Married
James Banner and Declan Forde have been Practically Married since April 2015. So come one come all and witness us make some beautiful music together!
Declan Forde – Piano
James Banner – Bass
Donnerstag, 16 Februar
Christl / Prosser / Santner
Tobias Christl (voc)
Hayden Prosser (b)
Max Santner (dr)
Tobias Chirstl
Tobias Christl ist "einer der außergewöhnlichsten Musiker des deutschen Jazz" (Freitag) mit einer "alle Genres überschreitenden Musikvision" (Süddeutsche Zeitung). Er singt und spielt in zahlreichen Bands und Projekten und ist mit seiner großen stilistischen Bandbreite ein gefragter Bühnen- und Studiosänger für Jazz, Pop und experimentelle Musik (u.a. Wildern, Herbe Sahne, Lieblingsband)
http://www.tobias-christl.de/en/
Hayden Prosser
With an interest in the space between multiple strains of acoustic and electronic music alongside an attentiveness to composition, double bassist and composer Hayden Prosser performs with artists who are on the forefront of creative improvised music. Hayden's latest project Tether (Whirlwind Recordings) features original compositions for quartet with the debut release set for May 2017 on Whirlwing Recordings. Born in England in 1990, he is currently based in Berlin.
https://www.haydenprosser.com/
Max Santner
Max Santner ist ein 1991 in Salzburg geborener Schlagzeuger und Komponist. Er bewegt sich vorwiegend im Bereich des Jazz und der zeitgenössischen, improvisierten Musik. Seit Oktober 2010 lebt und arbeitet Max Santner in Berlin. Im Sommer 2014 schloss er sein Schlagzeug- und Kompositionsstudium bei John Hollenbeck am Jazz-Institut Berlin mit dem Bachelor of Arts ab. Weiters hatte er im Rahmen seines Studiums vertiefenden Unterricht bei Kurt Rosenwinkel und Greg Cohen. Zu derzeitigen Projekten zählen unter anderen die Bands "Max Santner 5", "Lederkoralle", das "Philipp Harnisch Quartet", "SPOOL" und Hayden Prosser's "Tether".
http://www.maxsantner.com/
Freitag, 17 Febrar
Tamoko
TAMOKO
Robin Stüwe (trpt & flgh)
Simon Seeberger (p & comp.)
Yannik Tiemann (db)
Sebastian Schmidt (dr)
LISTEN:
"At Last"
https://www.youtube.com/watch?v=oNe2avXw5-8
"Ich Bin Ene Kölsche Jung"
https://www.youtube.com/watch?v=yKy1hRgDIsY
"Heimweh Nach Köln"
https://www.youtube.com/watch?v=jXumv7v6K7k
"Simon Seeberger verblüffte seine Zuschauer: Mit seiner Band Tamoko verwandelte der Pianist rheinische Gassenhauer in starke Jazznummern" (NOZ – Tom Bullmann)
"Der Pianist, der alle Stücke und die variationsreichen Arrangements der Kölnlieder geschrieben hat, aber auch Trompeter Robin Stüwe, Bassist Yannik Tiemann und Drummer Sebastian Schmidt sind ausgezeichnete Musiker, denen es nicht an Virtuosität und Drive mangelt." (NOZ – Tom Bullmann)
"Als Meister des dezenten Spiels entpuppt sich Simon Seeberger am Flügel" (RP Online – Uwe Plien)
Samstag, 18 Febrar
Nawa Ensemble
Nadim Sarrouh – Oud
Penelope Gkika – Violine
Valentina Bellanova – Nay
Adam Goodwin – Kontrabass
Amir Czwink – Perkussions
https://www.youtube.com/watch?v=BsQ66_gGtJk&t=12s
Founded in 2014, Nawa is a cooperation of Berlin-based musicians from Palestine, Syria, Italy, Greece, Poland, US. The instrumental line-up consists of: the Arabic lute/oud (Nadim Sarrouh), the violin (Penelope Gkika), the oriental flute/nay (Valentina Bellanova), the contrabass (Adam Goodwin) and various forms of percussion (Amir Czwink). Nawa aims at contributing to the popularity of classical Arabic and Turkish chamber music, a genre very little known in the West.
The repertoire of Nawa consists of pieces in traditional oriental musical forms such as: Sama'i, Bashraf, Longa, Darij, Tahmila, Dulab and many more. However, Nawa also interprets contemporary compositions in a classical setup. Central to all kind of oriental musical forms is the Taqsim: a structured, mode-based instrumental improvisation which focusses on rhythmic and melodic patterns in order to explore modes and modulations. Together with the structured musical forms it creates a highly dynamic and lively listening experience, very much alike to western improvisation genres such as Jazz.
—
Das im Jahre 2014 gegründete Nawa Ensemble ist eine Kooperation von Berliner Musikern aus Palästina, Syrien,Italien,Griechenland, Polen und den USA. Die Instrumentalbesetzung besteht aus: der arabischen Laute/Oud (Nadim Sarrouh), der Violine (Penelope Gkika), der orientalischen Flöte/Nay (Valentina Bellanova) dem Kontrabass (Adam Goodwin) und verschiedenster Perkussionsinstrumente (Amir Czwink). Nawa hat zum Ziel zu der Popularität der klassischen arabischen und türkischen Kammermusik beizutragen, eine musikalische Stilrichtung die im Westen wenig bekannt ist.
Das Repertoire von Nawa besteht aus Stücken in traditionellen, orientalischen Musikformen wie etwa: Sama'i, Bashraf, Longa, Darij, Tahmila, Dulab und viele mehr, Nichtsdestotrotz interpretiert Nawa auch zeitgenössische Kompositionen in einem klassischen arrangement. Zentral in allen orientalische Musikformen ist das Taqsim: eine freie, Tonart-basierte Instrumentalimprovisation mit dem Fokus auf rhythmischen und melodischen Mustern zum Erforschen von Tonarten und Modulationen. Zusammen mit den strukturierten Musikformen erzeugt es ein hoch-dynamisches und lebhaftes Hörerlebnis, welches viele Ähnlichkeiten zu westlichen Improvisationsgenres wie dem Jazz aufweist.