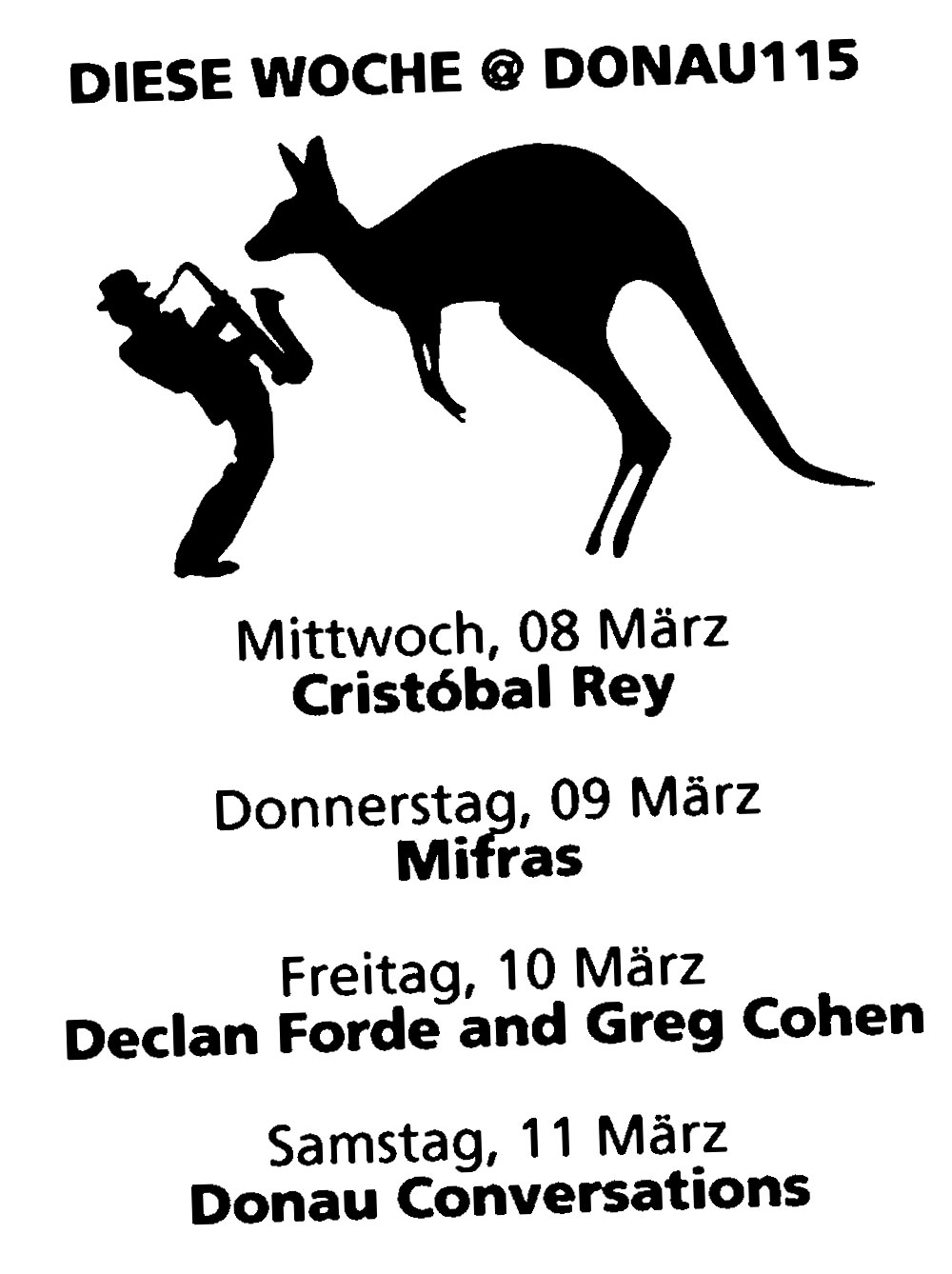 DIESE WOCHE IN DER DONAU115:
Mittwoch, 08 März >> Cristóbal Rey <– HEUTE ABEND!
Donnerstag, 09 März >> Mifras
Freitag, 10 März >> Declan Forde and Greg Cohen
Samstag, 11 März >> Donau Conversations
HEUTE ABEND!
Mittwoch, 08 März
Cristóbal Rey
LISTEN:
https://www.youtube.com/watch?v=IxqhWQiKWqQ
http://www.cristobalrey.com
"Cristóbal Rey is not the typical pianist and composer. His studies were mostly self-directed and he has seemingly become an advanced arranger by relying on intuition alone. He is now presenting one of the most beautiful author's works of the year."
(Antonio Voland – La Panera entertainment journal – Chile)
" Jazz with a Chilean accent " (Antonio Carlos Michael – Journal O Globo – Brazil)
Cristóbal Rey was presented the Chilean Fondart (national arts award) in 2005, 2006, 2010 and 2011.
Bursting with rhythmic and melodic tones from the South, this composition is aesthetically instrumental. Reflecting today's mosaic in South America, it walks the fine line between embracing and denying modern living, flowing from jazz and folk music in symphonic shades, heir to five hundred years of reinventing Our Americas.
Cristóbal Rey: guitar, piano and vocals
Tomás Peralta: electric bass
Magnus Dauner: Percussions
Donnerstag, 09 März
Mifras
Mifrás is a word in hebrew that means "sail" (n). After writing a few ideas for this band and slowly understanding what this project would mean, this name made itself present. Four musicians who have an equal influence on the music being played – no piano/guitar to dictate a strict underlined harmony – each have a responsibility towards the piece and each other…
Freitag, 10 März
Declan Forde and Greg Cohen
Greg Cohen:
https://en.wikipedia.org/wiki/Greg_Cohen
Declan Forde:
https://soundcloud.com/declanforde/house-party-starting
Samstag, 11 März
Donau Conversations
Wanja Slavin – sax
Igor Osypov – piano
Vasilis Koutsonanos – bass
Mathias Ruppnig – drums
Donau Conversations is a monthly concert series presented by Berlin-based drummer Mathias Ruppnig. Each event will feature groups of varying styles and personnel, performing jazz standards, original music or free improvisation.
"For me, Donau115 is a place that allows new musical and personal friendships to form, as well as a place to experiment with innovative musical concepts in front of a respectful and attentive audience."
WAS DEMNÄCHST PASSIERT:
Mittwoch, 08 März >> Cristóbal Rey
Donnerstag, 09 März >> Mifras
Freitag, 10 März >> Declan Forde and Greg Cohen
Samstag, 11 März >> Donau Conversations
Mittwoch, 15 März >> Tree-O JuBianCo
Donnerstag, 16 März >> Osypov / Mucha / Vega
Freitag, 17 März >> Das letzte Känguru
Samstag, 18 März >> Volcano Bjorn
Mittwoch, 22 März >> Rufus Coates & the Blackened Trees
Donnerstag, 23 März >> Projekt Schwedt
Freitag, 24 März >> Kraef / Schmiedel / Spallati / Ruppnig
Mittwoch, 29 März >> Pip Fluteman
Donnerstag, 30 März >> Graupe / Banner / Andrzejewski
Donnerstag, 06 April >> Markus Ehrlichs Flexible Eingreiftruppe
Samstag, 08 April >> BLAER
Donnerstag, 13 April >> Improvisierte Musik mit 7 Stimmen
Samstag, 22 April >> Drawing Circles
Mittwoch, 26 April >> Flechsenhar Trio
…und noch viele mehr!
Du willst bei uns auftreten? Unser BOOKING läuft über info@donau115.de, wir freuen uns über Nachrichten!
Hast du vom der Donau115 über Freunde erfahren und willst in Zukunft über das Programm informiert werden, schicke bitte eine Mail mit dem Betreff "Newsletter" an dieselbe Adresse.