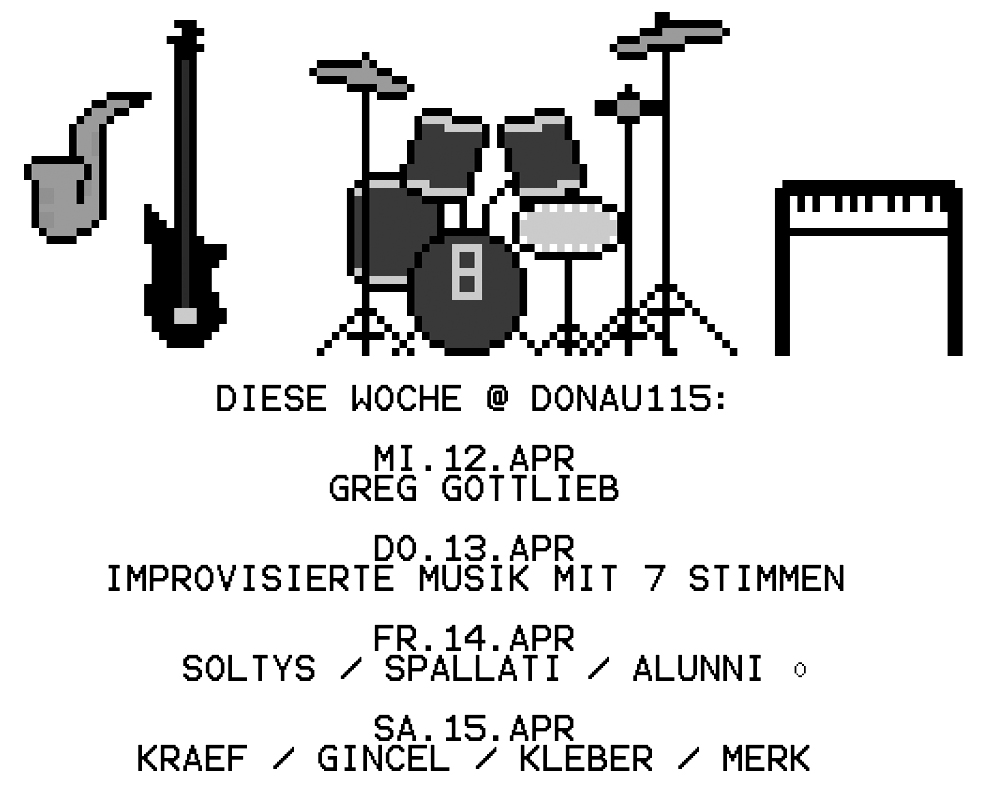 DIESE WOCHE IN DER DONAU115:
Mittwoch, 12 April >> Greg Gottlieb Trio
Donnerstag, 13 April >> Improvisierte Musik mit 7 Stimmen
Freitag, 14 April >> Soltys / Spallati / Alunni
Samstag, 15 April >> Ott / Kraef / Gincel / Kleber / Merk
Mittwoch, 12 April
Greg Gottlieb Trio
Greg Gottlieb Trio
Greg Gottlieb – Kontrabass
Fabia Mantwill – Tenor-Saxophon
Antje Rößeler – Piano
Read: www.greggottlieb.net
Watch: https://www.youtube.com/watch?v=Ep4Br93NQb4
Listen: https://soundcloud.com/greg-gottlieb
Connect: https://www.facebook.com/greggottliebmusic/
London-based kontrabassist Greg Gottlieb takes time off from touring with a big band show to make Donau115 home for a night as leader of his German trio. For this very special occasion, Greg is joined by two of Berlin's finest young jazz musicians, Fabia Mantwill (sax, vox) and Antje Rößeler (pno) in a joyous celebration of this city's vibrant musical atmosphere. Wir freuen uns auf euch!
Greg Gottlieb is an Australian double bassist whose growing demand on the original jazz and world music scenes in Europe and beyond is testament to his talent and versatility. As well as performing with local and international artists, Greg has appeared in Oscar-winning films, composed for screen and stage, and curated, directed and tutored at jazz education programmes in both hemispheres.
Donnerstag, 13 April
Improvisierte Musik mit 7 Stimmen
Christl/Wassermann/Osterloh/Schulz/Schiefel/Rütten/Leuthäuser
Besetzung:
Ute Wassermann/voc
Dora Osterloh/voc
Lydia Schulz/voc
Michael Schiefel/voc
Tobias Christl/voc
Erik Leuthäuser/voc
Klaus Rütten/voc
Es treffen sich acht Sänger und fangen an zu singen! Einfach so. Ganz spontan entsteht Musik, die so noch nie zu hören war und auch so nie wieder zu hören sein wird. Musik, die geprägt von der Ästhetik von acht Menschen, die Musik lieben, Spaß am Improvisieren haben sowie alle einen völlig unterschiedlichen stilistischen Background. Improvisieren mit Tönen, Worten, Geräuschen: mit all dem, was die Stimme hergibt! Das wird spannend!
An der Hochschule für Musik Franz Liszt in Weimar studierten Lydia Schulz, Klaus Rütten und Erik Leuthäuser improvisierten Gesang bei Michael Schiefel! Dort entstand die Idee zusammen ein freies Konzert zu singen! Dieses Mal werden sie außerdem von weiteren Vokalkünstlern unterstützt: Ute Wassermann, Dora Osterloh und Tobias Christl.
Wir freuen uns riesig, wenn ihr uns bei unserem musikalischem Trip am 13.04 in der "Donau 115″ in Berlin begleitet!
LISTEN/MORE INFO:
https://youtu.be/EIfn30N542M
https://youtu.be/mx5uneJIX4I
http://femmes-savantes.net/lesfemmessavantes/ute-wassermann/
http://kitejazz.de/
http://www.michaelschiefel.com/
http://www.tobias-christl.de/
http://erik-leuthaeuser.de/
Freitag, 14 April
Soltys / Spallati / Alunni
The Warsavian pianist Tomek Soltys will be joined by the italian rythm section for the first time in public to perform some of Tomek's compositions and classics from the jazz tradition.
Tomek Soltys- piano
Igor Spallati- contrabass
Ugo Alunni- drums
Samstag, 15 April
Ott / Kraef / Gincel / Kleber / Merk
Ben Kraef – tenor
Uri Gincel – piano
Paul Kleber – bass
Sebastian Merk – drums
original music from all band members!