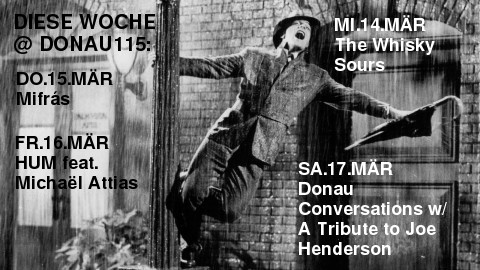 Mittwoch, 14. März >>
The Whisky Sours
  <– HEUTE ABEND!
Donnerstag, 15. März >>
Mifrás
Freitag, 16. März >>
HUM feat. Michaël Attias
Samstag, 17. März >>
Donau Conversations w/ A Tribute To Joe Henderson
HEUTE ABEND!
Mittwoch, 14. März
THE WHISKY SOURS

THE WHISKY SOURS
Boogie Bogdanovic – voc
Sweet Baby James – Bass
Delkan Forte – Piano
Hugo Alumni – Snare
Eldar "Curry" Tsalikov – Clarinet
Good Old Whisky Sours playing Good Old Good Ones for us!
We like them the way we like our whisky sour – which will be drink of the night of course. So sweet yet so sour…
Donnerstag, 15. März
MIFRÁS

Markus Ehrlich – Saxophon
Nils Marquardt – Posaune
Paul Kleber – Bass
Tom Dayan – Schlagzeug und Kompositionen
http://www.tomdayan.com/mifras/
https://www.youtube.com/watch?v=la0B0XH9-F4
Seit über 4 Jahren spielt Mifrás regelmäßig im Donau und freut sich auf neue und bekannte Gesichte und Ohren.
Lange Strukturen und kurze Stücke, zwischen grooves und Ostinati und immer mit vollem Herzen und viel Freiheit.
Diesmal freut sich die Band außerordentlich, ihr 2. Album "Stella Maris" zu präsentieren.
Freitag, 16. MÄRZ
HUM feat. Michaël Attias
HUM
Silvan Schmid – Trumpet
Jedrzej Lagodzinski – Tenor Saxophone
Nataniel Edelman – Piano
Max Santner – Drums
feat. Michaël Attias – Saxophone
HUM is an international band which was established in New York in 2016.
HUM is an innovative quartet full of fresh individualities of the young generation.
HUM's music is a poetic fusion of multicultural influences interwoven into a brisk braid of collective consciousness like a cat's murmur.
March 2018
12. Macondo, Wrocław, PL
13. Warsaw, Bardzo, PL
14. Klubokawiarnia Aquarium, Bielsko-Biała, PL
15. MOK, Legionowo, PL
16. Donau115, Berlin, DE
17. Kukulida, Dresden, DE
18. KoncertKirken, Copenhagen, DNK
19. Metronomen, Copenhagen, DNK
20. Moods im Schiffbau, Gamut Series #6, Zürich, CH
22. Bejazz TransNational Festival, Bern, CH
23. Jazzit, Salzburg, AT
https://silvanschmid.ch/
https://soundcloud.com/jedrzejlagodzinski
https://kuaimusic.com/artists/nataniel-edelman/
https://maxsantner.com/
Samstag, 17. März
19:00 – 20:45
Für den kleinen Hunger vor dem Konzert: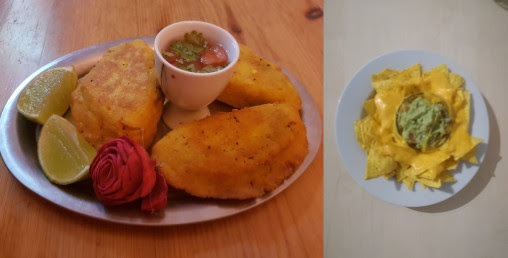 Diesen Samstag wird das Team von Andres und Latino Catering zwei leckere Snacks für uns in der Küche vorbereiten:
Teigtaschen
und
Tortilla mit Käse überbacken
Kommt einfach ein bisschen früher in die Donau115 und bringt Appetit mit. Und danach geht es weiter mit feinem Ohrenschmaus.
20:30
DONAU CONVERSATIONS w/ A TRIBUTE TO JOE HENDERSON

Ben Kraef – sax
Daniel Stawinski – piano
Tom Berkmann – bass
Mathias Ruppnig – drums
Donau Conversations is a monthly concert series presented by Berlin-based drummer Mathias Ruppnig. Each event will feature groups of varying styles and personnel, performing jazz standards, original music or free improvisation.
"For me, Donau115 is a place that allows new musical and personal friendships to form, as well as a place to experiment with innovative musical concepts in front of a respectful and attentive audience."