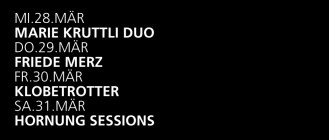 HEUTE ABEND!
Mittwoch, 28. März
MARIE KRUTTLI & OTIS SANDSJÖ
Marie Kruttli – piano
mariekruttli.com
Otis Sansjö – saxophone
otissandsjo.com
Otis Sandsjö, know for his physical, yet melancholic style of playing, has in recent years grown to become one of the most sought after young saxophonists on the European progressive jazz and pop circuit.
Marie Kruttli is a jazz pianist who is developing a very unique language. Her harmonic vocabulary is inspired by classical composers of the 20th century (Stravinsky, Webern).
She also has a deep feeling for mainstream groove as well as for angular rythmes.
Together the two musicians work in the quartet Clair -Obscur, new band lead by Marie. But it's as a duo that they will perform at Donau.
Donnerstag, 29. März
FRIEDE MERZ

Friede Merz (voc, git),
Monti Müller (drums, laptop)
Musikvideo SOHO
https://youtu.be/hkYMYwOVTS0
Live Video Sailor
https://youtu.be/hLMqCiN7f-4
EP Denmark Street on Spotify
http://spoti.fi/2FCyRML
(Englis version below)
Auf fast alles, was man von Friede Merz sagen kann, trifft auch das absolute Gegenteil zu. Sie ist eine sanfte Extremistin. Um mit Extremen zu spielen, muss man sich ihnen eine Weile gewidmet haben…und bereit sein immer weiter zu ziehen.
In einem kleinen baden-württembergischen Dorf aufgewachsen, kann sie sich an keine Zeit erinnern, zu der sie nicht weit weg und immer weiter wollte. Sie suchte ihr zu Hause zunächst in Mannheim in der Klassik und später in Berlin im Jazz um sich letztendlich einzugestehen, dass EIN zu Hause niemals genug sein würde, weder räumlich noch musikalisch.
In ihrer Debüt-Single SOHO spricht Friede von genau diesem Weiterziehen und der Suche nach dem Vertrauten in der Fremde.
Mit gebrochenem Herzen floh Friede vor einigen Jahren von Berlin nach London.
Aus einem Ablenkungsmanöver wurde ein folgenschwerer Richtungswechsel: In den Drag Pubs von Soho fand Friede die Inspiration und in der berühmt berüchtigten Denmark Street, Namensgeber ihrer ersten EP, den Sound nach dem sie gesucht hatte.
Und letztlich die Menschen, die ihre Aufnahmen aus den Nalepastudios Berlin veredelten: Mixing engineer Alex Killpartrick und die Master-Göttin sondergleichen, Mandy Parnell.
Mittlerweile in Hamburg gelandet, hat Friede sich mit ihrem Debüt viel Zeit gelassen. Kein Manager, kein Label und vor allem keine halben Sachen. Friede hat ihre Studio-Aufnahmen und das in London gedrehte Musikvideo zu Soho alleine produziert: "Ich konnte es mir ehrlich gesagt einfach nicht anders vorstellen. Ich bin getrieben von der Notwendigkeit mich immer weiterzuentwickeln und Neues auszuprobieren. Und dankbar, dass mit dem Musikvideo nun auch eine visuelle Komponente zum kreativen Output hinzugekommen ist."
Die Verdrängung der gay bars in Soho aufzuzeigen und das als "natürlich" Vorausgesetzte zu hinterfragen ist der pinke Faden, der sich durch das Musikvideo zu Soho zieht. Mit einer warmen Stimme, lauten Gitarren und versöhnlichen Harmonien wird hier die Musik selbst zum Schutzraum.
Friede sei mit euch.
ENGLISCH
Press Text Friede Merz
Everything that can be said about Friede Merz always has to include the opposite. She's a gentle extremist. To play with extremes you have to know them very well…and always be willing to move on.
Raised in a tiny village in Germany, she can't remember a time where she didn't wanna get far away and always further away from it. She was looking for a home in classical music whilst studying in Mannheim and tried the same later with jazz during her studies in Berlin just to realize that one home alone could never be enough, neither geographically nor musically.
That's what Friede's debut single Soho is all about, always being on the move, looking for familiarity within the outland. A few years ago Friede fled Berlin with a broken heart to spend some time in London. The distraction tactic turned into a momentous shift in direction.
In Soho's drag pubs Friede found new inspiration and in the infamous Denmark Street, name giver of her upcoming EP, the sound she had been looking for. And finally the people to refine her recordings she made at Nalepa Studios Berlin: mixing engineer Alex Killpartick and the mastering-goddess herself: Mandy Parnell.
In the meantime having arrived in Hamburg, Friede have herself a lot of time for her debut. No manager, no label and most of all no things done halfway.
Friede produced both her recordings and the music video for Soho herself: "To be honest I couldn't imagine it any other way.
I'm driven by the need to always improve myself and try new things. And having a visual component in my creative output now is something I'm very grateful for."
The elimination of gay bars in Soho and questioning what we assume to be "natural" is the pink thread running though the music video for Soho. With this gentle voice, loud guitars and peaceable harmonies music itself becomes a shelter.
And maybe the only home Friede would agree to commit to.
instagram
https://www.instagram.com/friedemerz/
Facebook
https://www.facebook.com/friedemerzmusic/
youtube
https://www.youtube.com/channel/UCaueYAstvpnJIuz8uWaB8TA
Homepage
www.friedemerzmusic.com
Freitag, 30. MÄRZ
KLOBETROTTER

Max Stadtfeld drums
https://youtu.be/JJQoqOaDCzg
Felix Henkelhausen bass
https://youtu.be/4_PU27oW-vc
Mark Pringle piano
https://youtu.be/EkxNNouXc7s
Mirna Bogdanović vocals
https://youtu.be/-LqOkyyOSZc
Roman Klobe gitarre
https://youtu.be/ThNiRw2RuRQ
Neue Band. Zum ersten mal zusammen auf der Bühne. Wo? Natürlich um's Eck in der Donau. Die Stücke sind noch taufrisch, ein paar müssen sogar erst noch fertiggestellt werden. Was gibts zu hören?
Da der Begriff Jazz inzwischen von so vielen Assoziationen belegt ist, wage ich es gar nicht erst auszusprechen. Freut euch einfach auf Musik wie sie rauskommt, wenn man für alles offen ist und der Begriff "Genre" einem unlogisch erscheint.
Alle in der Band verfolgen selbst eigene Projekte und schreiben Musik gleichermaßen.
Kommet in Scharen!
Samstag, 24. März
HORNUNG SESSIONS w/ MAHALL / BORGHINI / LEIPNITZ


For this series i'm inviting varying musicians from the (mainly) Berlin jazz scene for playing either free improvisations, tunes written by me or by my guests, originals by other musicians or even just olden but golden standards which will be interpreted in the way the atmosphere of the evening requires.
Each concert should be a unique get-together, where everyone incorporates their voice into an overall structure and lets the music happen.

Line-up for the next concert:

Rudi Mahall – bass clarinett
Ludwig Hornung – piano
Antonio Borghini – bass
Jan Leipnitz – drums