HEUTE ABEND!
Mittwoch, 02. Mai
TANRIKULU / AARON / PROSSER
Cansu Tanrıkulu – voice and electronics
Luca Aaron – guitar and electronics
Hayden Prosser – double bass and electronics
Donnerstag, 03. Mai
TAL ARDITI TRIO // SONGS

Tal Arditi – Guitar
Felix Henkelhausen – Bass
Tobias Backhaus – Drums
Tal Arditi is an Israeli 19 years old Guitarist and composer.
He studied in "Rimon University Of Music",and in the age of 17 he reached the finales on the "Israeli Jazz player" competition. After his studies he has preformed at several jazz festivals in Israel and Europe including "Umbria Jazz Festival " "Red Sea Jazz Festival" , "Jerusalem Jazz Festival'', "XJAZZ festival" etc. Tal moved recently to Berlin and quickly became an active player in the Berlin jazz scene. His debut album will be released soon with the help of "Ancor Records"
Tal's music in influenced from modern jazz and rock, and combined strong melodies and complex harmonies.
https://www.youtube.com/watch?v=zBJkQtmlXCw
Freitag, 04. Mai
ZWITSCHERMASCHINE

Mark Weschenfelder – alto, klarinette, komposition
Paul Berberich – flöte, alto
Vincent Bababoutilabo – flöte, altflöte
Adrian Kleinlosen – posaune
Joachim Wespel – gitarre
Andris Meinig – kontrabass
Florian Lauer – schlagzeug
https://www.youtube.com/watch?v=An5VYUfV8Dk
https://www.youtube.com/watch?v=yT6m3EIYWzI
https://soundcloud.com/specialfelder/sets/zwitschermaschine-snippets
https://soundcloud.com/specialfelder/zwitschermaschine-hocket/s-bx50W
Die "Zwitschermaschine" ist ein Septett in der ungewöhnlichen Besetzung: 2 Querflöten, Saxophon, Posaune, Gitarre, Bass und Schlagzeug. Sie atmet den Forschungsgeist der Neuen Musik
und wird bewegt durch das kommunikative Miteinander ihrer Jazzmusiker. Hierbei werden die wechselseitigen, korrelativen Aspekte von Improvisation in komponierte Strukturen gefasst.
Paul Klee Zwitschermaschine 1922. MECHANISCHE SCHNITZEREI, ZEICHNERISCHE MASCHINERIE // Post-M-Base-Ambient-Music
Die Musik provoziert eine Vorstellung von dreidimensionaler Bildhaftigkeit. Durch diese kontemplative Räumlichkeit werden lokomotorische Sensationen wie Fliegen, Gleiten und Tauchen
für die Zuhörer erfahrbar gemacht.
Psychedelic-Ambient-Punk-Music // 2017. TAENZERISCH TECHNISCHE SETZMASCHINE, EINSATZSICHER SCHEMATISCHE MASSEINHEIT
"Wir wollen mit unserer Musik Menschen aufmerksam und neugierig machen und ein vielschichtiges Publikum für extrem spezielle, avantgardistische und anspruchsvolle Musik
begeistern, egal aus welchem Genre sie stammt." – Aus dieser Einstellung heraus verfolgen die Musiker der Zwitschermaschine eine Spielattitüde, die im besten Falle die Hörer motiviert, sich verschiedenen Formen von zeitgenössischer Musik hinzugeben.
1912. MASSEINHEIT 1915. TECHNISCHE
1916. SCHWEINISCH 1923. THERMISCHES
1925. ZWEIMASTERS 1926. CHINESISCHE
1927. WASCHECHTER 1928. SCHEMATISCH
1936. THERMISCHEN 1937. ZENTRISCHEM
1938. WAHRZEICHEN 1940. MECHANISIERT
1942. WAHRZEICHENS 1943. SCHWAECHSTEM
1944. SCHNEEMATSCH 1946. ZEICHENTISCH
1947. MECHANISCHER 1948. SEMANTISCHER
1950. SCHWEINISCHE 1951. SETZMASCHINE
1952. SCHICHTWEISE 1956. MECHANISCHES
1958. ZEICHNERISCH 1965. WEISHEITSZAHN
AETHERISCH ERSCHEINST WAHRHEITEN NICHTWEISS
RESISTANCE HEIMWAERTS SCHWAERMEN ERSCHIENST
EINSAMSTER SICHTWEISE ZWITSCHERN ERHASCHTE
HEIMISCHES REICHSACHT SCHMAEHTEN
MANCHASTER WEISMACHEN
STEINREICH ZERSTACHEN
(Foto: David Campesino)
Samstag, 05. Mai
EARSHOT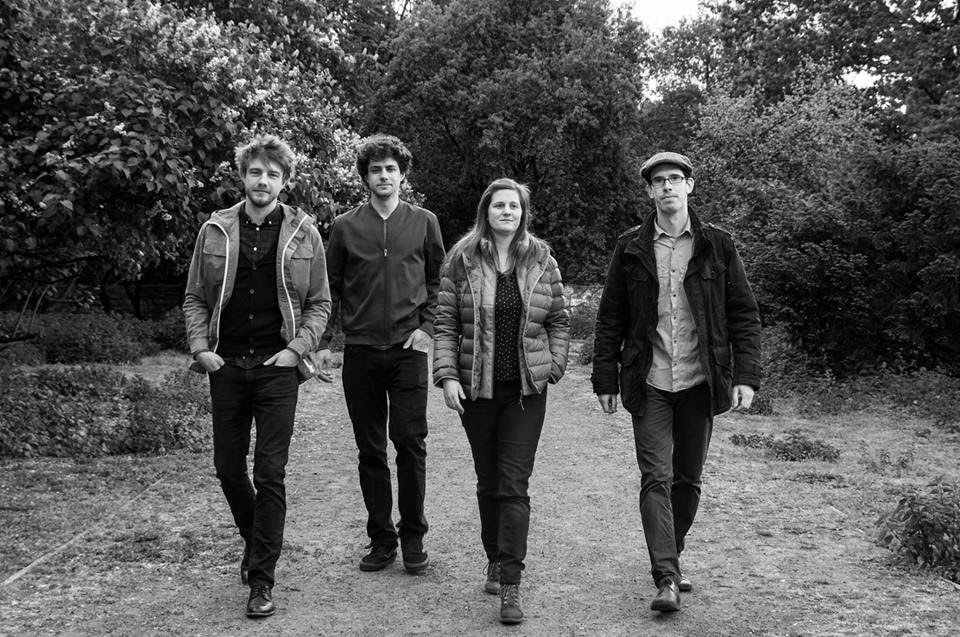 Arabella Sprot – T.Sax,
Robert York – E.Gtr,
Tom Berkmann – C.Bass,
Mathias Ruppnig – Schlagzeug
Webseite – https://www.earshotsound.com/
Album Teaser – https://www.youtube.com/watch?v=HJkRqHPvvfw
Earshot was formed in Berlin in 2015 and can be described as explorative and egalitarian. Whilst there are two main composers for the band, all four share a set of core musical values: discursion, dynamics and texture. Interplay between groove and melody is a common driving force for both composers, whilst differing harmonic textures create the contrast. We like to think of it as positive drama.
Earshot is run and led by Arabella Sprot and Robert York, who play tenor saxophone and jazz guitar respectively. The band also features Austrian drummer Mathias Ruppnig and German bassist Tom Berkmann. The band members already boast numerous awards as individual musicians, including performance prizes from DOWNBEAT and Help Musicians UK.