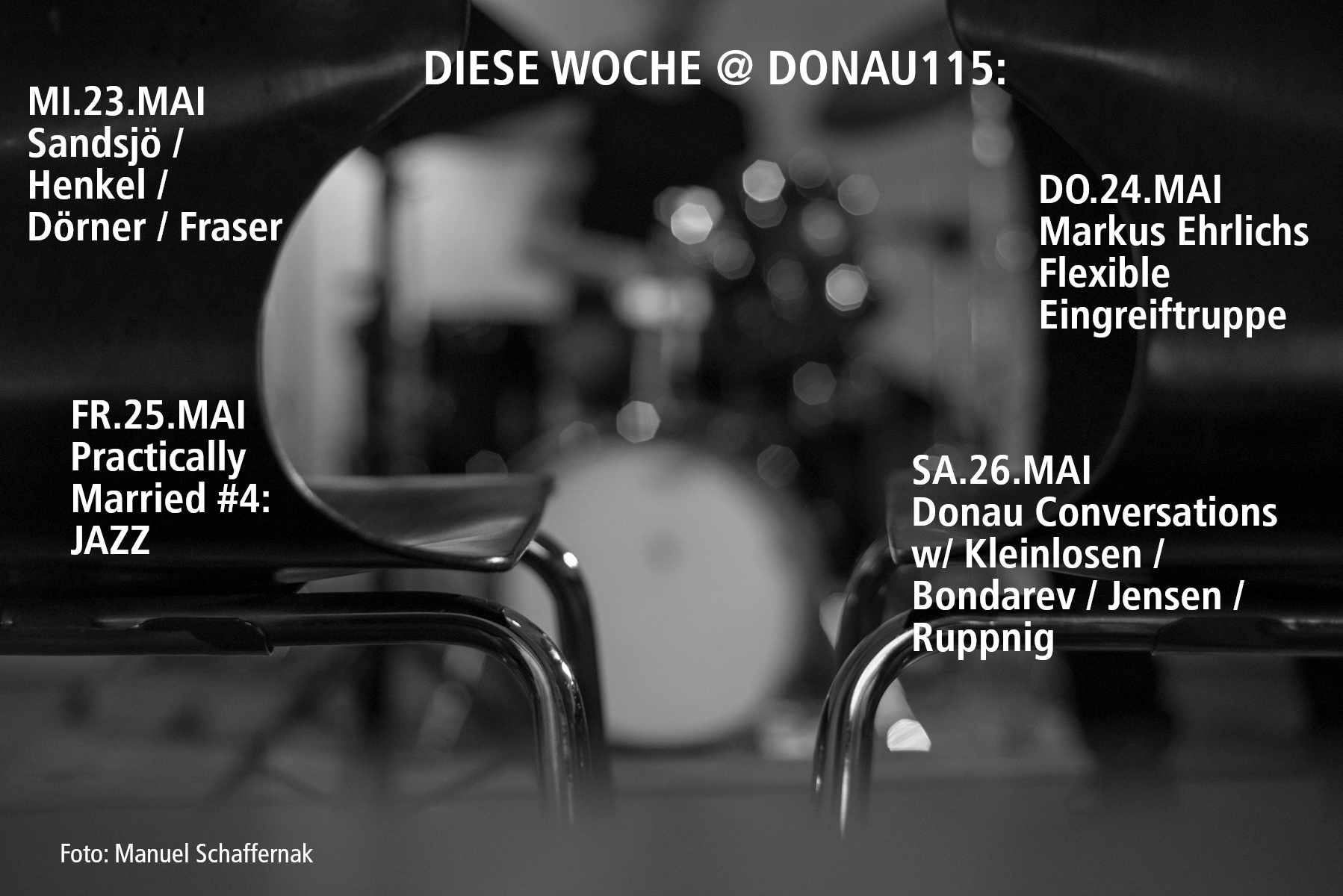 HEUTE ABEND!
Mittwoch, 23. Mai
SANDSJÖ / HENKEL / DÖRNER / FRASER
Brad Henkel // trumpet
http://bradhenkel.blogspot.de/
Axel Dörner // trumpet
http://axeldoerner.org/
Otis Sandsjö // tenor sax
http://otissandsjo.com/
Henry Fraser // bass
http://henry-fraser.com/
Horn players Brad Henkel and Otis Sandsjö have a lovely duo that has a tendency to multiply itself.
This time around they're inviting THE Berlin trumpet giant, Axel Dörner as well as one of the most interesting young bass players on the giant New York scene, Henry Fraser.
New music will definitely be performed.
Donnerstag, 24. Mai
MARKUS EHRLICHS FLEXIBLE EINGREIFTRUPPE

Markus Ehrlichs Flexible Eingreiftruppe – The Major Minors
Florian Menzel – trp
[ www.themajorminors.de ]
Markus Ehrlich – sax
[ www.markusehrlich.com ]
Johannes von Ballestrem – pno
[ www.johannesballestrem.de ]
Tom Berkmann – bass
[ www.tomberkmann.com ]
Philipp Schaeper – drums
[ www.themajorminors.de ]
Mit "The Major Minors" präsentiert Markus Ehrlichs Flexible
Eingreiftruppe ein weiteres hochkarätiges Jazz-Ensemble, das
sich ganz dem ikonischen Sound von Trompete & Saxophon und
Rhythmusgruppe verschrieben hat.
Schon bei ihrer ersten Begegnung im Jahr 2009 fanden "The Major Minors" heraus, dass sie nicht nur auf der Bühne synchron
ticken. Gemeinsame Auftritte brachten sie vor das große Publikum, die gemeinsamen Wurzeln im Jazz auf neue Pfade. Das Leben der Stadt musikalisch zu betrachten, ihre Stimmungen hörbar einzufangen und Geschichten ohne Worte zu erzählen, trug zu ihrer individuellen Tonfindung bei.
"The Major Minors" schaffen eigenkomponierte Klänge zu Film-
und Bühnenproduktionen, bestimmen bei Live-Auftritten landauf wie landab den Herzschlag ihres Publikums und interpretieren
musikalische Standards.
Im Jahr 2013 wurden sie u.a. mit dem Deutschen Filmpreis für
den Soundtrack zum Kinohit "Oh Boy" ausgezeichnet.
Seit Anfang 2017 entwickelt das dynamische Quintett ein neues Programm und gastiert regelmäßig im Berliner Jazz-Club "Donau115" ("one of the best jazz clubs in Europe" – Adam McCulloch, The Guardian UK).
Freitag, 25. Mai
PRACTICALLY MARRIED #4: JAZZ


James and Declan have been 'Practically Married' since April 2015, a name proudly awarded to them due to their ability to spend time together almost every day with only a few frustrations, and the fact that they play almost every concert together. To honour this special relationship, in 2018 they are excited to be curating and performing a monthly concert series at Donau115: 'Practically Married'. (plus special guests, because sometimes things just need spicing up…).
Eldar Tsalikov – Alto Saxophone
Dima Bondarev – Trumpet
Declan Forde – Piano
James Banner – Bass
Ugo Alunni – Drums
Samstag, 26. Mai
DONAU CONVERSATIONS w/ KLEINLOSEN / BONDAREV / JENSEN / RUPPNIG

Harmless from Ellington to Monk
Adrian Kleinlosen – trombone
Donau Conversations is a monthly concert series presented by Berlin-based drummer Mathias Ruppnig. Each event will feature groups of varying styles and personnel, performing jazz standards, original music or free improvisation.
"For me, Donau115 is a place that allows new musical and personal friendships to form, as well as a place to experiment with innovative musical concepts in front of a respectful and attentive audience."