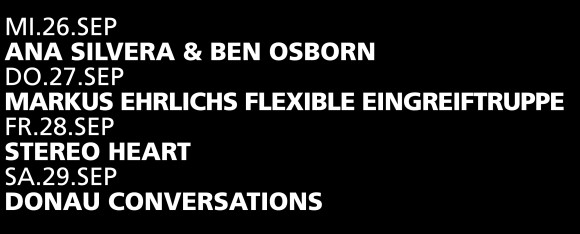 Mittwoch, 26. September
Ana Silvera and Ben Osborn


Ana Silvera
Poignant, dreamlike and beautiful, and written following an intense period of grief, Silvera's new album 'Oracles' is a haunting yet life-affirming collection of songs whose lyrics explore loss, love, salvation and the journey towards acceptance, themes that are underscored by beguiling, weaving choral lines, mellifluous Debussian piano melodies, subtly off-kilter percussion and rapturous strings, all unified by Silvera's dynamic vocal style which evokes the delicate yet theatrical prowess of Kate Bush, combined with what the Arts Desk described as a "Björk-like spontaneity'.
'Melodies that just won't leave you alone and a voice that tugs at your heart' – Max Reinhardt, BBC Radio 3
facebook.com/AnaSilveraMusic/
www.anasilvera.com
Ben Osborn
Multi-instrumentalist songwriter Ben Osborn blends highly original writing with ambient electronica, bittersweet pop and influences from folk and modern classical. Following on from 2017's 'Murmeln Um Schiffland' EP on Wanda Portal (recorded on Donaustraße itself), he presents new works toward the upcoming debut album from Nonostar Records.
'Beautiful' – BBC Introducing
facebook.com/benosbornmusic
murmelnmusic.com
Donnerstag, 27. September
Markus Ehrlichs Flexible Eingreiftruppe


Markus Ehrlichs Flexible Eingreiftruppe – The Major Minors
Florian Menzel – trp
[ www.themajorminors.de ]
Markus Ehrlich – sax
[ www.markusehrlich.com ]
Chris Colaço – pno
[ www.themajorminors.de ]
Tom Berkmann – bass
[ www.tomberkmann.com ]
Philipp Schaeper – drums
[ www.themajorminors.de ]
Mit "The Major Minors" präsentiert Markus Ehrlichs Flexible
Eingreiftruppe ein weiteres hochkarätiges Jazz-Ensemble, das
sich ganz dem ikonischen Sound von Trompete & Saxophon und
Rhythmusgruppe verschrieben hat.
Schon bei ihrer ersten Begegnung im Jahr 2009 fanden "The Major Minors" heraus, dass sie nicht nur auf der Bühne synchron
ticken. Gemeinsame Auftritte brachten sie vor das große Publikum, die gemeinsamen Wurzeln im Jazz auf neue Pfade. Das Leben der Stadt musikalisch zu betrachten, ihre Stimmungen hörbar einzufangen und Geschichten ohne Worte zu erzählen, trug zu ihrer individuellen Tonfindung bei.
"The Major Minors" schaffen eigenkomponierte Klänge zu Film-
und Bühnenproduktionen, bestimmen bei Live-Auftritten landauf wie landab den Herzschlag ihres Publikums und interpretieren
musikalische Standards.
Im Jahr 2013 wurden sie u.a. mit dem Deutschen Filmpreis für
den Soundtrack zum Kinohit "Oh Boy" ausgezeichnet.
Seit Anfang 2017 entwickelt das dynamische Quintett ein neues Programm und gastiert regelmäßig im Berliner Jazz-Club "Donau115" ("one of the best jazz clubs in Europe" – Adam McCulloch, The Guardian UK).
Freitag, 28. September
Stereo Heart


"STEREO HEART"
Fabiana Striffler & Greg Cohen
The 5th night of their monthly concert series at Donau115.
Fabiana Striffler – violin (DE)
Greg Cohen – bass (USA)
Fabiana Striffler and Greg Cohen
This Duo was born in 2010 and the two have maintained a musical collaboration and a close friendship ever since their arrival in Berlin.
Next concerts of the row will be:
october 24th
november 14th
http://www.fabianastriffler.com/live/
Foto Dovile Sermokas
Samstag, 29. September
Donau Conversations w/Meinhart /Motokawa
/Santner /Ruppnig


This time with Raphael Meinhart, my great friend and musical brother for many years, which i know from "Sandkasten" basically
We are going to play two sets with the following not so basic lineup of musicians an instruments, this is going to be a lot of fun!!
Raphael Meinhart – vibes, marimba but maybe just mallet kat
Takumi Motokawa – syths
Max Santner – drums and cymbals
Mathias Ruppnig – cymbals and drums
"For me, Donau115 is a place that allows new musical and personal friendships to form, as well as a place to experiment with innovative musical concepts in front of a respectful and attentive audience."