Mittwoch, 03. Oktober
Ronja / Lavalu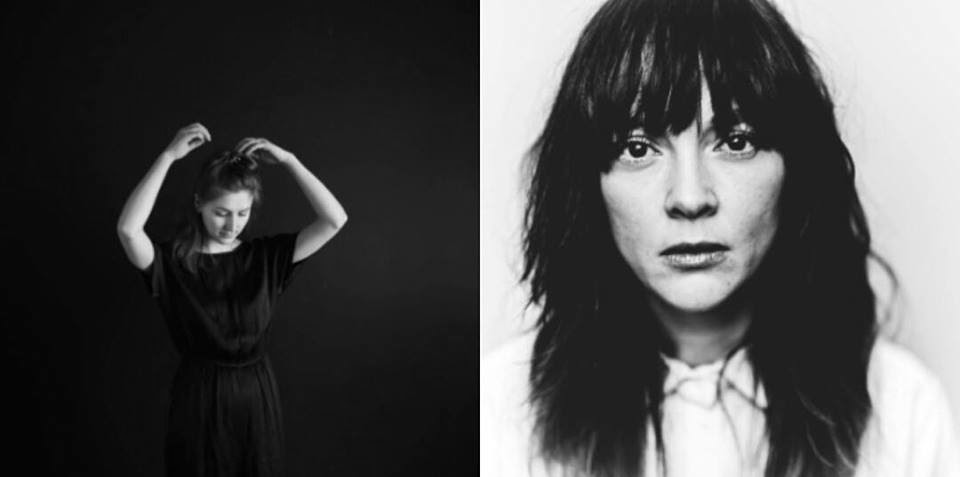 1 Night, 2 Shows!
Set 1: ronja
Ronja Schößler // voice, guitar, composition
Luca Aaron // guitar, electronics
ronja is a singer-songwriter, based in Berlin, who combines the pure, soft and sharp sounds of her voice and the acoustic guitar in a melancholic universe. Honest lyrics and stories, reflecting thoughts about life and dream. In her music, strength is weakness and weakness is strength.
Minimalistic pop combining acoustic and electronic elements.
https://www.facebook.com/ronja-180409096012988/
https://ronja.bandcamp.com/releases
https://www.youtube.com/watch?v=ha3_-ZvQP-c
( (c) Guro Reinaas)
——-
Set 2: LAVALU
LAVALU //piano, vocals
"Desolate and hauntingly beautiful."
– 8weekly
As an artist LAVALU (NL) scratches the back of classical
music while poking the fires of pop.
She recently wrote and recorded a contemporary song cycle,
inspired by composers such as Schubert and Debussy.
Piano. Voice. Honest and bare.
Lyrics that can be read as stories about blunt desire.
This is today's chamber music.
VIDEO LAVALU "WAITING"
http://tinyurl.com/j3gjgaq
http://www.lavalu.nl/
https://www.facebook.com/lavalumusic/
https://soundcloud.com/lavalu
Donnerstag, 04. Oktober
Kenneth Dahl Knudsen Quintet


Malte Schiller – tenor sax
Sebastian Boehlen – guitar
Edgars Cirulis – piano
Mathias Fischer – drums
Kenneth Dahl Knudsen – bass
Sometimes you have to dive into the unknown to get back to yourself. Nobody knows more about this simple truth than double bassist and composer Kenneth Dahl Knudsen.
As the grieveing about his mother´s death threatened to take all joy of living from him, the multiple awarded jazzmusician went on a journey that led him through 33 countries – always accompanied by his bass, his sheer belief in the uniting forces of music and the glimpse of hope to get back some of the lightness he had in his youth.
Little by little the encounters and playing with local musicians from diverse musical cultures as from Japan, USA, Morocco, Lebanon, Israel, Thailand and Germany helped Kenneth Dahl Knudsen to gain a variety of new musical impressions as well as finding new joy in life – an experience he shares with the world on his fourth album "Tété". The title references the name he used to give himself as a little child before he could speak properly and stands as a symbol for his newfound lightheartedness.
From a musical point of view the title also perfectly reflects the truly open minded childlike curiosity that Knudsen aimed for with his new album. As a bandleader he manages to unite all the experiences he made on his journey and ties them all up into one impressive complete work. Backed by the blindly intuitive interplay of his quintet Knudsen combines harmonies of the european music tradition with the playful rhythms of Africa and Latin America as well as the expressiveness of jewish folksongs as if they belonged together naturally, sounding like noone else but himself. It feels like Kenneth Dahl Knudsen is leading the intercultural understanding that is the fundamental idea of jazz into the age of globalisation – and he welcomes everybody to join him on his exciting journey
www.kennethdahlknudsen.net
www.soundcloud.com/kennethdahlknudsen
Freitag, 05. Oktober
Bondarev – Rudzinskis Quartet


Dima Bondarev – trumpet
Toms Rudzinskis – sax
Igor Spallati – bass
Moritz Baumgärtner – drums
Dima's dedication to jazz has been around since early childhood. In his early twenties, he became part of two well-known Ukrainian jazz bands, Magnifika Group and Acoustic Quartet, to which he still belongs. After moving to Berin in 2013 Dima formed his own international band, which has shared many happy and glorious moments together. Some of the highlights are : the 2nd price of '50. Jazz and Odra festival' in Wroclaw (Poland, 2014), the 1st Price of Festival de Jazz à Montauban (France, 2014) and JIB-Jazz-Preis Der Karl Hofer Gesellschaft Gestiftet von Toni und Albrecht Kumm (Germany, 2015), 2nd Price of Umbria Jazz Festival (Italy, 2017)
On September 2017 Dima's Quintet released his debut album under the Unit Records called I'm Wondering.
Dima has been collaborating with many outstanding musicians of European and American scenes, among them – Greg Cohen, Joey Baron, NDR Big Band, Jim Black, Nels Cline, Steve Turre, Conrad Herwig and many others.
Toms Rudzinskis is one of the leading innovative Latvian saxophone players and composers with a unique sound in his performance and compositions.
After graduating from the prestigious Conservatorium van Amsterdam, Toms currently resides in Riga, Latvia and travels across Europe to perform, collaborate and educate. Leading his own band or performing as a well-respected soloist and sideman you can meet Toms in The Netherlands, Germany, Austria, Iceland, Georgia, Curacao, Portugal, Spain, Luxembourg, Belgium, Austria, Czech Republic, Poland, the Baltic States and the list goes on.
Besides numerous jazz and classical music awards, Toms has been chosen as the Best Soloist at the international big band competition "Meer Jazz", and won the "Keep an Eye" Jazz award with the quartet "North by Northeast", competing against musicians from New York, Boston, Philadelphia and The Netherlands. In 2012, Toms was selected as the Jazz ambassador of the internationally recognized venue Bimhuis. In 2013 won the Grand Prix in the prestigious "Burghausen Jazz competition" with "Matiss Cudars quartet", which led to an opportunity to share the stage with internationally recognized Cassandra Wilson. In 2015 Toms won the "Dutch Jazz Competition" Grand Prix with Loran Witteveen quintet which led to a tour in 2016 covering the biggest venues in The Netherlands.
In 2014 Toms released debut album "ABRA" that got nominated for the Latvian Grammy Award Latvijas Mūzikas ierakstu gada balva "Zelta Mikrofons" in two categories – The Best Jazz album and The Best Debut and gaining a wider recognition and following in his homeland.
Moritz Baumgärtner
Education:
– Classical drum training from the age of 9 in Basel (CH)
– Drum lessons at Jazzschule Basel 2000 – 2003
– Private Lessons in NYC p.E. with Clarence Penn, Jochen Rückert in 2005
– studying with John Hollenbeck, Jim Black, Jeff Ballard, Kurt Rosenwinkel, Greg
Cohen at Jazz Institute Berlin from 2006 – 2011
Career:
Moritz got to play concerts with amzing musicians like Greg Cohen, Kurt
Rosenwinkel, David Friedmann, Perry Robinson, Achim Kaufmann, Johannes Enders, Emil Mangelsdorff, Ack van Rooyen, Julia Hülsmann, Theo Bleckmann, Hayden Chisholm…
He played on several Jazz festivals p.E. Jazz Baltica, Moers Festival, Jazz by Off beat Basel(CH), Jazzfest Berlin, Jazzfestival Port au prince (Haiti), Langnau Jazz Nights(CH), Jazzfestival La Paz (Bolivia), Lugano Jazzfestival (CH), Jazzfestival Bergen (NO); Jazzfest Timisoara (RU), Jazz D'Or Berlin – Strasbourg…
…and other Festivals like Sziget Festival (Hungary), Kazantip Festival (Ukraine), Rock am Ring, SXSW Austin (USA), Dour Festival (Belgium), Fusion Festival, Hurricane…
Moritz is / was touring frequently with many different Bands and Projects all over Europe (p.E Melt Trio, Lisbeth Quartett, Johanna Borchert Band, TAU – Gropper/Eldh/Zoubeck, Das Rosa Rauschen, Uri Gincel Trio, Christian Weidner, Pablo Held, Matthias Pichler, Gabriel Coburger, Frittenbude, Andromeda Mega Express Orchestra, Bonaparte, Saroos, The Eclectic Moniker and many more).
His music also took im to USA, Southamerica, China, Russia, Ukraine, Haiti, Norway, Rumania, Denmark, Sweden, UK…
You can find Moritz on over 30 different records on international labels (Traumton, Sony, Warner, Enja, Audiolith…) as a jazzdrummer and improviser but also as a rockdrummer.
Prices / Scholarships:
Jgend jazzt Bundeswettbewerb 1st Price (2003)
Jazzma Scholarship (2003)
Yehudi Menuhin Scholarship (since 2010)
Jazzpreis Baden Württemberg 2nd Price 2010
Jazz Echo "Best Newcomer 2012"
Nominated for Jazz Echo 2015 "Melt Trio – Hymnolia"
Nominated for Jazz Echo 2017 "drums national"
Igor Spallati wuchs in Perugia auf und studierte am Jazzinstitut Berlin bei Greg Cohen und John Hollenbeck. 2011 war er der erste Gewinner des Savoy Award of Excellence. Er arbeitete in dieser Zeit u. a. mit Mike Richmond, Dado Moroni, Pietro Tonolo, Gabriele Mirabassi, Fred Hersch, Joe Chambers und trat auf verschiedenen Jazzfestivals wie Jazz Baltica und Umbria Jazz auf.
Seit Ende der 2000er-Jahre arbeitete er u. a. in der Formation Nickhead[3], mit Simon Kanzler und mit Anna Webber. Als Hornist war er am Album Labyrinth (2013) der italienischen Rockband Fleshgod Apocalypse beteiligt. Er ist Mitglied des Rosen Quintett (mit Benedikt Joch, Edith Steyer, Kay Lübke und Nikolaus Neuser); ferner spielte er u. a. mit Clara Haberkamp, Fuasi Abdul Khaliq, Markus Ehrlichs Flexible Eingreiftruppe, Florian Menzel und Uri Gincel/Moritz Baumgärtner und Volker Schlott. Spallati lebt in Berlin.
Samstag, 06. Oktober
Felix Henkelhausen Quintet


Wanja Slavin – AltSax
Uli Kempendorff – TenorSax, BassClarinet
Povel Widestrand – Piano, Synth
Felix Henkelhausen – Doublebass, comp.
Ludwig Wandinger – Drums
Felix Henkelhausen is presenting a fresh group of creative characters from the Berlin scene.
His compositions are based on strong eclectic rhythms and melodic counterpoint, but give lots of space for his band members to interpret and interact.
https://www.youtube.com/watch?v=4_PU27oW-vc&frags=pl%2Cwn
Felix studied in Berlin with Prof. Greg Cohen and Marc Muellbauer, other teachers have been Drew Gress, Jim Black and Robert Landfermann.
Despite his young age, Felix has worked with many national and internationally acclaimed Musicians such as:
Marc Copland, Jochen Rueckert, Philipp Gropper´s "Philm", Pablo Held, Peter Schlamp, Eric Mcpherson, Toby Delius, Jim Black and many others. He is part of Nate Wooley´s european "Knknighgh" Quartet with Mette Rasmussen and Dre Hocevar and is curating a Series with Ludwig Wandinger at Zukunft am Ostkreuz called "FutureBash".