+ COMEDY AM SONNTAG! (14. OKT)
_______
Mittwoch, 10. Oktober
Lars Graugaard & Sölvi Kollbeinssons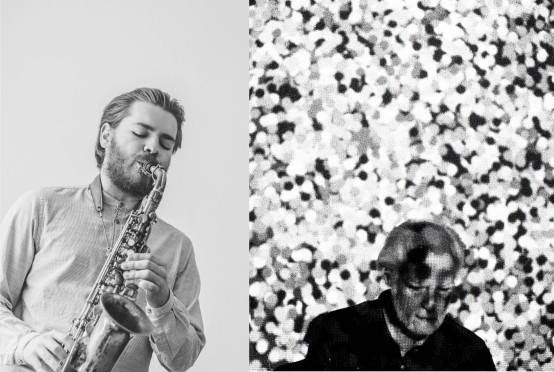 Lars Graugaard – laptop
http://www.l–l.dk
https://youtu.be/uVtOWfAs6bQ
https://youtu.be/qhebg_G1zO0
https://youtu.be/dkcwO3jJtsI
Sölvi Kollbeinsson – sax
https://youtu.be/9tiTosLiG74
https://youtu.be/ZQgAax8ZsqQ
https://youtu.be/boPP1BW4zOs
Two highly versatile and virtuoso musicians get together for the first time, in an unusual combination across instrument, approaches and generations.
An extremely resourceful composer, performer and producer, Lars Graugaard (*1957) moves with ease between intellectual avant-garde, spontaneous improvisation and street-smart methodologies for the body. He has released numerous LPs, CDs and digital formats over the last 40 years, alone and together with a vast array of top-level international performers. He has composed up towards 200 score works for any combination of instruments and to all dimensions and sizes, developed installations and media work and plays electronic sets under his given name and experimental live techno sets under the Lars From Mars moniker. Lars is since 2010 Visiting Faculty Artist at NYU Steinhardt's Music Department where he develops novel works that is presented in performance and recording by staff, ensembles and advanced students. His latest CD 'Engage and Share' is available on the KAIROS label.
Sölvi Kollbeinsson (*1996) is the outstanding jazz player of his generation. Originally a classical player where he would win all available prizes for students of classical music in his home country Iceland, Sölvi switched to jazz and now lives, studies and works in Berlin, and he partakes in several projects in Germany and Iceland, appearing in festivals and concerts across Europe. At the Iceland Music Awards 2016 he was awarded a Special Mention as the most promising jazz musician on Iceland today.
Donnerstag, 11. Oktober
Gann Gryniva's DYKI LYS


Ganna Gryniva – voice, loops
Musina Ebobissé – tenor saxophone
Povel Widestrand – piano
Tom Berkmann – upright bass
Mathias Ruppnig – drums
www.ganna-gryniva.de/en/
https://soundcloud.com/ganna-gryniva/taiga
https://soundcloud.com/ganna-gryniva/daydreams
https://www.youtube.com/watch?v=RnNNqIv4c8c
Ganna Gryniva´s DYKI LYS ("Wild Fox" in Ukrainian) bridges several musical worlds from jazz to folk to experimental. Digging into the history and the mystery of the various traditions of making music, DYKI LYS creates a neo-native language that derives its power from its deep roots and the constant desire to explore. Powerful soundscapes, strong grooves and softly floating melodies tell stories of small villages and slow trains; of smiling grandmas with colorful headscarves. Stories of many generations fighting for their independent identity; stories of the bittersweet melancholy that echoes in the vast landscapes of Ukraine.
Freitag, 12. Oktober
Musina Ebobissé Quintet


Musina Ebobissé : Tenor Sax, Composition
Olga Amelchenko : Alto Sax
Povel Widestrand : Piano
Igor Spalatti : Double Bass
Moritz Baumgärtner: Drums
https://soundcloud.com/musina-ebobiss/sets/musina-ebobisse-quintet
Centered on Musina Ebobissé's compositions, the quintet suggests a contemporary jazz influenced by different styles such as modal and free jazz, rock and 20th-classical music. It is a field of expression combining both curved and angular melodic lines, as well as sharp and loose rhythms, evoking a wide range of emotions and atmospheres.
Die Musik der Band basiert auf Eigenkompositionen des Bandleaders, die geprägt sind vom Contemporary Jazz, modaler Harmonik sowie freier Improvisation. Der Ausdruck sowohl runder als auch scharfkantiger Melodik, die sich auf punktualistischer und entspannter Rythmik ausbreitet, lässt ein weites Feld an Emotionen und Atmosphären in der Musik.
Samstag, 13. Oktober
Chris Gall Trio feat. Frank Möbus


Frank Möbus – guitar
Chris Gall – piano
Henning Sieverts – bass
Peter Gall – drums
http://chrisgallmusic.com/trio/
http://www.frankmoebus.de/
Cosmic Playground, ein schrankenloser Ort der Fantasie auf einem unerforschten Planeten. Ohne Grenzen und Vorgaben, ein Spiel auf die eine oder andere Art zu spielen. Wer nicht so weit reisen will, der kann sich auch das neue Programm von Chris Galls drittem Trio-Album "Cosmic Playground", deren zwei Vorgänger auf dem Label ACT erschienen sind, anhören. Begleitet vom Bassisten Henning Sieverts und seinem Bruder Peter an den Drums gelingt Chris Gall eine grandiose Sammlung unterschiedlichster Soundtracks zu wunderbaren Filmen, die erst im Kopf des Zuhörers entstehen und sich garantiert nicht immer gleichen. Titel wie "Arthur Dent Knows" oder "Follow the Milky Way, Then Turn Left" sind dabei herausgekommen. Musik, die ihren Zauber umso mehr entfaltet, je länger man ihr zuhört. Auch John Lennons "Across the Universe" schwebt auf seinem Weg ins Sternenbild Ursa Minor mit. Nach seinem impressionistisch anmutenden Solo CD-Debut "Piano Solo" und knapp 250 Konzerten als Gastpianist mit der Weltmusik-Formation Quadro Nuevo, bereichert Chris Gall nun wieder das akustische Klavier-Trio. Schon 2008 schreibt das größte englische Jazzmagazin Jazzwise: "Chris Gall's Trio debut provides evidence that jazz is alive and kicking in Germany".
Für seine aktuellen Konzerte hat das Trio den Berliner Gitarristen Frank Möbus eingeladen, eine Koryphäe an der Jazzgitarre und Professor an der Musikhochschule Weimar, der als Leader der Formation "Der Rote Bereich" zu den spannendsten und innovativsten Gitarristen Europas gehört. Möbus, der wie Chris Gall am renommierten Berklee College of Music in Boston sein Jazzstudium abschloss, bereichert mit rockigen Riffs und seinem melodiösen Spiel das akustische Trio, das sich mit hymnischen Hook-Lines, kraftvolle Basslinien und rasante Drum-Grooves locker über die Grenzen der Genres hinwegsetzt. Wunderbar frischer Jazz, befreit vom kommerziellen Korsett, offen, verspielt und grenzenlos!
Sonntag, 14. Oktober
Comedy Professionals


In association with Shameless/Limitless,
Dion Owen – fresh off of 75 shows at Edinburgh Fringe and also the host of Montreal's on the up Comedy At The Bike Shop show – presents a night to live, to love, and let's please not forget, to laugh, at Donau115.
Tip your bartender.
W/
Carmen Chraim
Daniel Gutierrez
Dharmander Singh
Dion Owen
Jason Harvey