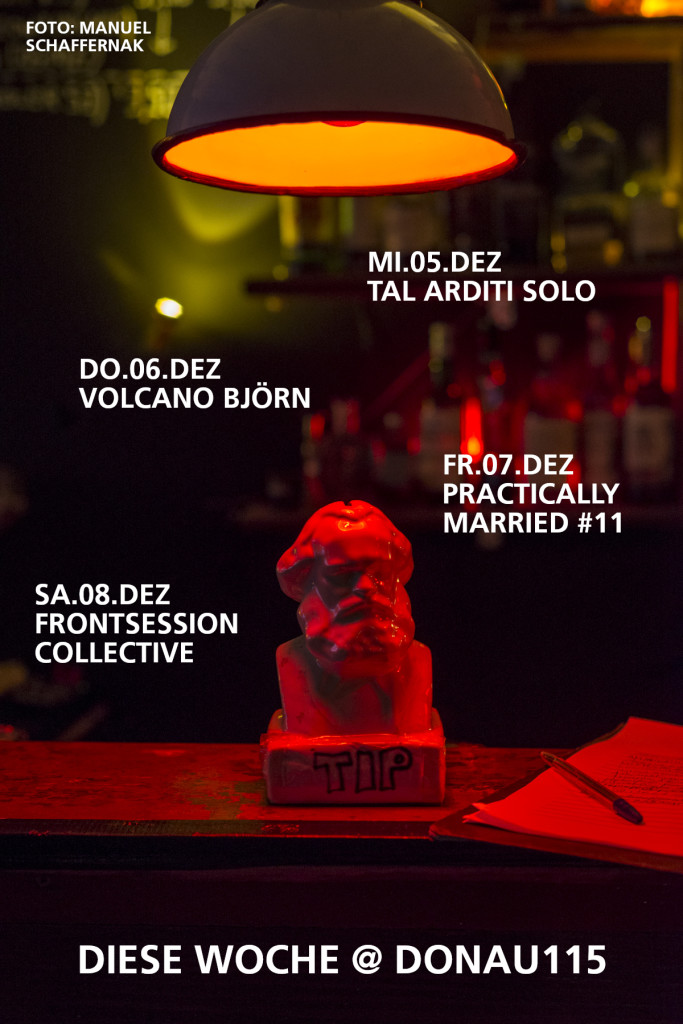 Mittwoch, 05. Dez
Tal Arditi Solo


Tal Arditi (born in 1998) Guitarist and composer from Israel.
Recognised as a young guitar prodigy , Tal started to study in the prestige "Jazz institute" program, by "Rimon Music University" when he was only 16.
in the age of 18, he graduated from "Rimon" sucsessfully with a Jazz Diploma, and decided to move to Berlin.
In Berlin he quickly became one of the most wanted players in the local and international Jazz scene, and started to play regularly in clubs and festivals all over Europe.
Tal will play songs from his newest album, ''Portrait''.
"Tal Arditi is considered one of the most important discoveries of the year" LP Online Magazine
_______
Donnerstag, 06. Dez
Volcano Björn


Sölvi Kolbeinsson – AltSax
Arne Braun – Guitar
Felix Henkelhausen – Doublebass
Ludwig Wandinger – Drums
https://www.youtube.com/watch?v=boPP1BW4zOs&frags=pl%2Cwn
https://www.youtube.com/watch?v=zIBaLMjNLGs&frags=pl%2Cwn
https://soundcloud.com/fhausen/striving-kolbeinsson
After growing up in Finland, Iceland and Germany, they have met in the Berlin Scene, all of them studied with great Musicians like John Hollenbeck, Greg Cohen, Kurt Rosenwinkel, Jim Black and others.
They play music together, warmly stimulated by many different influences starting from way back until today.
The structure and form you will find in their music are always the product of circumstance and instant composing ideas, more than fixed arrangements.
Definitely there are some compositions and planned turns but everything is executed in a way, that every band member can act completely free and lead the music to uncertain places. In this process something new always emerges, exciting and mesmerizing.
_______
Freitag, 07. Dez
Practically Married #11


Practically Married #11: Old Love VS New Love
Matthew Herd – Alto Saxophone
Declan Forde – Piano
James Banner – Bass
Fermín Merlo – Drums
This month will feature Matthew Herd and Fermín Merlo. Matthew is originally from Glasgow in Scotland, now based in London. Fermín has just moved to Berlin and is originally from Buenos Aires.
________
Samstag, 08. Dez
Frontsession Collective


The Frontsession Collective is a dynamic and musically adventurous group of young musicians and songwriters from the city of Aarhus in Denmark. We all derive from Frontsession (Aarhus).
There will be three different sets performed by the Frontsession Cellective:
SET 1 (starts 20:00)
Frontsession Musikproduction
Konrad Underbjerg: beats og bass
Jeppe Albinus: vocals and keys
Ditte Elly: Vocals and keys
Emil Istrup Karlsmose: noise and details
Aske Bendixen: Harmonies and bass
Experience the sounds of a young group of danish electronic musicians, who bring in wholesome atmospheres and deep vibes you can dance and dive into. A mix of drums, percussives and melodies will blast your ears away and guarantee for a great evening!
SET 2 (starts 21:00)
Frontsession Collective Indie/Folk Band
https://vimeo.com/292877590
Nanna Marie Møller – Vocal, keys, perc.
Nynne Spangegaard Rasmussen – Vocal, Harmonium, kalimba
Anne-Line Thomsen – Vocal, saxophone, perc.
Ida Nielsen – Vocal, acoustic guitar, perc., saw
Aske E. Bechmann – Drums, vocal
Laura Holm Skyum – Cello, Mandola, vocal
Oliver Stewart – Electric guitar, drums
Simon Villads K. Tarp – Electric guitar
Gustav Lauridsen – Bass
Nis Hybel – Electric guitar
Frontsession Collective indie/Folk Band creates a powerful and dreamy atmosphere and explores tonic boundaries. Both in well-known song by e.g. Bon Iver and The National but mainly in original songs written by the band. Get ready for an interesting evening featuring alternative as well as traditional instruments.
SET 3 (starts 22:00)
Frontsession Collective Jazz Orchestra
https://vimeo.com/289683150
Anders Vase Yde – Drums
Emil Christensen – bass
Svend Laurids Knudsen – Piano
Snorre Spange – Guitar
Markus Hvelplund – Guitar
Rikke Krebs – Vocal
Sofie Herdorf Krøyer – vocal
Aske Normann Brix – Saxophone
Morten Klit – Trombone
The band consists of eight young talented musicians, and band guru Morten Klit, on trombone. We have been playing together every day since august this year, which has given us experience as a band, and in jazz music in general. We have gone through a period of sharing knowledge about writing music, which has given each of us a solid foundation in composing and arranging. Each member has contributed with our own song, that springs from jazz, but shows each members personal style, in both lyrics and genre. This has created a wide range of exotic music, combining jazz with soul, blues, funk and samba.