HEUTE!
Mittwoch, 16. Januar
ESCHE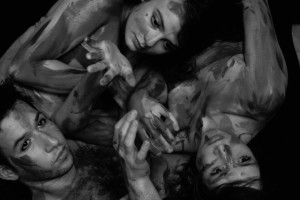 Laura Schuler – Violine
Luzius Schuler – Piano
Lisa Hoppe – Kontrabass
https://esche.bandcamp.com/
https://www.youtube.com/watch?v=2lfsk4ASEc8
https://www.youtube.com/watch?v=iNMnW7yLVy8
Laura Schuler (Violine), Luzius Schuler (Piano) und Lisa Hoppe (Kontrabass) bilden zusammen das kammermusikalisch-improvisierende Trio Esche. Die Band mit der ungewöhnlichen Instrumentation bewegt sich im Grenzgebiet zwischen Jazz und improvisierter Musik und verarbeitet Einflüsse von nordischer Folklore sowie europäischer Kunstmusik.
Seit 2014 tourt Esche regelmäßig in der Schweiz, Deutschland und Skandinavien (u.a. Aarhus Jazz Festival, BeJazz Bern, Cully Jazz Festival, KlangBasel, Golem Hamburg) und wurde für das Suisse Diagonales Festival 2017 ausgewählt. 2016 erschien ihr Debüt "Leiser Protest" (morpheus records), welchem im März 2018 das zweite Album "Der Dichter Spricht" (QFTF) gefolgt ist.
_____
Donnerstag, 17. Januar
Practically Married
Cansu Tanrıkulu – Voice/Electronics
Declan Forde – Piano
Arne Braun – Guitar
James Banner – Double Bass/Composition
Max Andrzejewski – Drums
https://www.youtube.com/watch?v=–oLy0PDAz4
When will they say yes? Maybe this year? We're looking forward to another year with those two amazing musicians at Donau115 !
For the first instalment of 2019, Declan signs over all his rights for one night only to present James Banner's USINE, presenting material from their first album and new pieces, ahead of their tour of Germany and the UK in February/March
James Banner's USINE is 45 minutes of unobvious and unpredictable music, created thanks to artists connected by an invisible but at the same time noticeable thread of unbounded agreement – Robert Ratajczak, LongPlay
Freitag, 18. Januar
Thijs de Klijn Quintet
Olga Amelchenko – Alto Saxophone
Musina Ebobissé – Tenor Saxophone
Thomas Kolarczyk – Double Bass
Quentin Cholet – Drums
https://www.youtube.com/watch?v=-34ywR9Y64c
In March of 2018 Thijs de Klijn Quintet released 'Factotum', which is a synonym for 'Jack of all trades' but literally means 'do everything'. While doing everything on a recording is impossible, Thijs de Klijn Quintet certainly covers a lot on their debut album. They move between African grooves, free jazz, swing and rock, and go anywhere else they want to go. The compositions are all originals by Thijs de Klijn written for his favourite musicians he met while living in Berlin. With titles such as 'Nieuwegracht' and 'De Werf' they touch base in hometown Utrecht too.
At this concert the quintet will play compositions from 'Factotum' and new ones as well.
_____
Samstag, 19. Januar
Karl Marx Sound System 
Ben Osborne
Rowan Coupland
Rachel Margetts
Chad Matheny
https://benosborn.bandcamp.com/
https://rowancoupland.bandcamp.com/
https://yrlovelydeadmoon.bandcamp.com/releases
A free-form night of songs, ambient jams, harps, ye olde musick, and ye neue musik! These four solo performers will bring two sets of collaborative projects. After the show, a quiet but enveloping down-tempo collab DJ set will smooth out the bleary edges of the evening.