HEUTE!
Mittwoch, 30. Januar
 SK#2- Only a Visitor/Laure Boer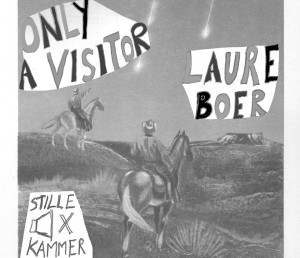 ONLY A VISITOR- Avant-pop, Vancouver Canada
Pianist/singer Robyn Jacob returns to Berlin to perform a rare solo concert. Since 2015 she has been performing with Only a Visitor (for those with long memories, she previously played in Berlin as Fist Full o'Snacks). Creating astonishing and beautiful piano alt pop in the vein of tUnE-yArDs, Björk, Dirty Projectors and Sufjan Stevens, her new album Technicolour Education is out this month, focusing on the Chinese diasporic experience in Vancouver through generations of immigrant stories, at first inspired by finding her great-grandfather's head tax certificate from the 1920's.
"uniqueness unlike anything brought to the Canadian music scene"
https://www.onlyavisitor.com/
LAURE BOER – Witch rave/acoustic techno(France/Berlin)
"Hypnotic music. Mystical rituals. Loop folk. Witchtronic. "
A one-woman psychadelic slow rave, improvised around folk instruments, odd percussion, and sometimes french lyrics and vox. It might turn into absolutely anything, but Boer's unpredictable and bracing music is always enchanting.
https://soundcloud.com/laureboer
_______
Donnerstag, 31. Januar
 JZ Replacement feat. Zhenya Strigalev & Jamie Murray at Donau115 
JZ Replacement featuring Zhenya Strigalev and Jamie Murray (London)
https://www.youtube.com/watch?v=vTJP62uHR-M
https://www.youtube.com/watch?v=f1_-RoYTrPA
https://www.youtube.com/watch?v=9Zqz_yBQSns
JZ Replacement" is a high energy and intense newly formed project, having just successfully played the Love Supreme festival, appeared for three nights at the famous Ronnie Scott's Jazz Club in August, just played in Berlin and Vienna as well as at London Jazz Festival and Porto Jazz Festival in Portugal. This is a fresh exhilarating vibe not to be missed! In December they had an extended tour in St Petersburg and Moscow. They are recording a new album in March. So, catch them live to hear some new tunes and grooves while they are fresh!
JZ Replacement is a very special project and different from Zhenya's and Jamie's other projects. They have lots of inspirations through their musical journeys and studies, and in this project they mix them to create an organic yet very original sound. Some people see their Indian influences, some Charlie Parker or Chris Dave. The focus here is create something very tight and precise (which is often not possible with bigger groups) while being totally free and creative. There are lots of heavy swinging grooves, complex melodies as well as just some catchy simple melodies which will please everybody (although that's not the goal). And they may even RAP some Jay Z.
"…fascinatingly intense, winding and staccato performance – a real orchestrated duo…" – London Jazz News
"Always it's a surreal, impressive brew" – ★★★★ Jazzwise
"Strigalev's group could well be the next big thing in jazz." ★★★★ All About Jazz
"A maverick at the heart of modern jazz." ★★★★ The Telegraph
_______
Freitag, 01. Februar
 Sprich Leise at Donau115 
Britta-Ann Flechsenhar – voc
Alexander Dannullis – git
Jan Roder – b
Michael Griener – dr
"……erst, als ihr bleicher Laib verfaulet war,
geschah es sehr langsam, dass Gott sie allmählich vergass…"
Zwei Zeilen aus der "Ballade vom Ertrunkenen Mädchen", die den poetischen Brecht und den lyrischen Kurt Weill beleuchten. Und schon David Bowie zu einem bewegendem Falsett animierten.
"Das wäre ihr Mädchen, Herrr Jakob Schmidt. Wenn ihre Hüfte keinen Schwung hat, dann ist Ihr Geld Dreck aus Wellblech…" – der krude Ton im Havanna Song.
Nun betritt das Berliner Ensemble das sattsam abgegraste Terrain.
Die Lesart von Britta-Ann Flechsenhar, Al Dannullis, Jan Roder und Michael Griener transportiert den Brecht/Weill'schen Kosmos in die Gegenwart. Das Treiben von toten Körpern gehört hier längst zum Alltagsgeschäft – warum das also larmoyant reanimieren.
Die 4 Musiker brauchen darauf keine Antwort. Sie nehmen sie stattdessen zum Anlass ihrer Kultur des freien Miteinanders.
Möglicherweise generieren sie dabei jenen Klang, den Brecht sich für seine Texte immer gewünscht hätte.
https://soundcloud.com/britta-ann-flechsenhar/seerauber-jenny
https://soundcloud.com/britta-ann-flechsenhar/havanna-song
https://soundcloud.com/britta-ann-flechsenhar/ballade-von-der-sexuellen-horigkeit
www.brittaflechsenhar.de
_______
Freitag, 02. Februar
 KAYAN Project at Donau115 
Kayan Project spielt arabische, hebräische und englische Folk-Songs sowie eigene Lieder und mischt sie mit improvisatorischen Elementen. Die Performance wechselt Tempi, Genres und Sprachen und kombiniert Klänge und Rhythmen aus dem Nahen Osten und dem europäischen Westen. Durch alte Volksmelodien und Eigenkompositionen öffnet dieses Projekt eine Tür zu den inneren Welten der Musiker, die aus der gleichen Gegend stammen, jedoch sehr unterschiedliche musikalische Hintergründe mitbringen; Musiker, diegemeinsam auf der Bühne stehen, um ihre Geschichten und Gefühle durch Musik auszudrücken; Musiker, die eine neue Reise in sichselbst und mit dem Publikum antreten.
Kayan Project performs Arabic, Hebrew and English folk and original songs infused with improvisational elements. The performance swings between times, genres and languages, combining sounds and rhythms from the Middle East and the European West. The project opens a door, through old folk tunes and original songs, to the inner worlds of musicians coming from the same area with very different musical backgrounds; musicians who join on stage to communicate their stories and feelings through music; musicians who embark on new journeys inside themselves and with the audience.
https://www.youtube.com/watch?v=5iEu92Bdt_M&list=PLor-AyJToyUImhnQr6SVdno4bMYHttw_j&index=1
https://soundcloud.com/kayan-duo/sets/kayan-project