HEUTE!
Dienstag, 5.März
Marine Bernard & Samantha Tiussi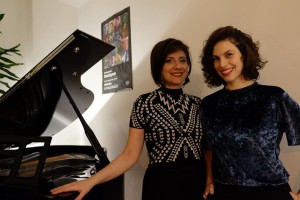 Samantha Tiussi – piano
Marine Bernard – voc
Classik Music – Klavier und Stimme.
Französische Melodie, Stücke aus dem 20. Jahrhundert
Die brasilianische Pianistin Samantha Tiussi und die französische Sopranistin Marine Bernard musizieren seit einem Jahr zusammen, und haben ´ ein französisches Programm vorbereitet, mit Liedern von Fauré, Poulenc und Debussy unter anderem. Mit romantischen Liedern, lustigen Kinderartige Melodien oder schwebenden Klavierstücken schaffen für euch die beiden Musikerinnen eine Traumatmosphäre.
https://soundcloud.com/user-336181080
_______
Mittwoch, 6.März
Käschi-4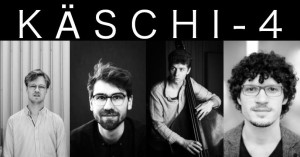 KÄSCHI-4 besteht aus vier Musikern, die die Kölner und Berliner Jazzszenen aktiv mitgestalten. Die hörbar unterschiedlichen Einflüsse der Künstler verschmilzen in ihren Kompositionen zu einer Mischung aus modernem- und freiem Jazz.
Phillip Dornbusch_sax/cl
Felix Hauptmann_p
Roger Kintopf_b
Jan Philipp_dr
https://www.youtube.com/watch?v=C5gDzyQorn0
https://www.youtube.com/watch?v=L3Ic_gypGbA
https://www.youtube.com/watch?v=tJqIWPY4nXU
Photo credits:
Phillip: Veith Ebbers
Roger: Arne Morger
_______
Donnerstag, 7.März
Fred Garden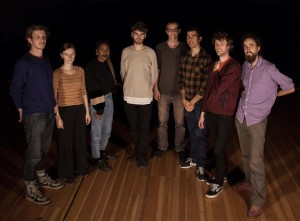 Merveille Mubakemeshi – vocals
Elli Sooß – alto saxophone
Leander Jones – tenor saxophone
Baron Arnold – trombone
David Pöll – guitar, composition
Jens Bollosch – piano
Julian Schenk – bass
Johann Gottschling – drums
Fred Garden is an 8-piece crossover soul band from Berlin that friskily contours jazz, funk and hip-hop. With her iridescent and poetic lyrics, versatile vocalist Merveille Mubakemeshi will touch your heart and embrace your imagination. Compound grooves meet playful harmonies and delicate melodies. Multilayered compositions in cahoot with vibrant brass sections and vamps leave space for spoken word and improvisation.
Fred Garden started in 2017 as an instrumental ensemble exploring the airiness of complex rhythms. Today, the inclusion of a hornsection and vocals add soul and refine the expressive sound of the group. Whether you are sitting, standing, or dancing, come join Fred Garden in moments of peace, rage, and intimacy. They will kiss your ears and let euphoria heat up your body.
www.fredgarden.com
https://www.youtube.com/watch?v=M-ckvNNungU
_______
Freitag, 8. März
SVA Jazz -Musikschule Neukölln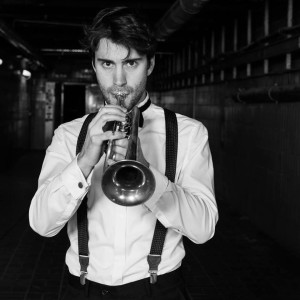 Die Musikschule Paul Hindemith Neukölln präsentiert mit der 'Studienvorbereitung Jazz' (SVA Jazz) am Freitag den 08.03.2019 um 19:30 Uhr im Donau 115 (Donaustr. 115,12043 Bln) das Konzert Musik-Power! Die jungen Musiker der SVA-Jazz sorgen immer wieder für Überraschungen und inspirierende Ideen auf der Bühne. Die Dozentenband der Musikschule Neukölln spielt zum Abschluss des Konzerts und gibt Einblicke in die kompositorische Welt der einzelnen Musiker. Dieses Mal: Jörg Schippa (guit) Horst Nonnenmacher (bass) Ray Kaczynski (drums) Franz Bauer (vib) und als Highlight ihr special Guest Fabian Engwicht (trp). Er ist als Solist sehr gefragt und kommt gerade zurück aus Mali, wo er mit dem Omniversal Earkestra auf Tour war. Für unser Konzert bringt er u.a. Repertoire von Wheater Report und McCoy Tyner mit.
Mit vielen Grüßen von allen beteiligten Musikern, die sich auf Ihr Kommen freuen…
_______
Samstag, 9. März
 Andi Haberl meets Kalle Zeier