Mittwoch, 20. Februar
Declan Forde – Piano
Igor Spallati – Double Bass
A first time meeting without any cumbersome interruptions from a drummer – or any other band mates for that matter…
Here you will find the dulcet tones of Igor Spallati's Bass and Declan Forde's Piano; taking inspiration from the likes of Jimmy Blanton and Duke Ellington for an evening of hot swinging Jazz to lift the soul, with a few in-tune notes thrown in for good measure, each measure.
_______
Donnerstag, 21. Februar
Carola Ortiz (Spain): vocals, clarinet, bass clarinet
Charu Hariharan (India): Indian percussion, vocals
Nishad Pandey (India/Australia): guitar
Carola Ortiz, Charu Hariharan and Nishad Pandey are unique, multifaceted musicians from Spain and India respectively, who discovered each other through their own musical journeys. Following a magical encounter in Kolkata in 2017, the trio join forces to perform a repertoire that reflects their eclectic cultural upbringings. Carola's roots in Jazz, Mediterranean and Latin music blend seamlessly with Charu's Hindustani and Carnatic
vocalisations and rhythmic punctuations. Nishad's harmonic and tonal inflections provide a platform for a shared dialogue that invites the world of Jazz, Classical music and Rock to sit
side-by-side. Collectively, the trio provide a sonic palette that includes voices, clarinet, bass clarinet, South Indian and world percussion, konakol, guitar and effects, where each musician
provides his/her own unique musical imprint.
_______
Freitag, 22. Februar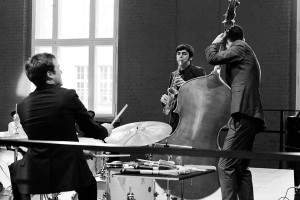 Eldar Tsalikov – sax
Martin Buhl – double bass
Kuba Gudz – drums
Describing the HAF is a difficult task, it's composed of two handsome guys, and one that should consider wearing a mask.
The music is thoroughly composed, yet ferociously free, and you'll wonder how a sound like that could be created only by three.
Since 2012 they have been in effect, and after a long break they are again ready to connect.
Outlining the style of the music goes beyond the borders of linguistics, so come and see these three misfits and hear some music you can't mess with.
https://soundcloud.com/eldar-tsalikov/sets/the-haf
https://www.youtube.com/watch?v=jTuJoNHBrRM
_______
Samstag, 23. Februar
Improvisation und Philosophie | Jazz Bewegt
IMPROVISATION UND PHILOSOPHIE
– Was Improvisation explizit macht -
Konzert und Diskussion
Wir laden euch ein zu der letzten Diskussionsrunde unserer Reihe "Jazz Bewegt".
Jazz bewegt und wird bewegt- klanglich, historisch und gesellschaftlich. An 3 Abenden wollen wir uns zur aktuellen Lage des Genres mit Musiker_innen, Publizist_innen und Wissenschaftler_innen austauschen und diskutieren: Wie verändern die schwindenden Verkaufszahlen von Tonträgern die Musik und Arbeitsbedingungen von Musikschaffenden? Wie unterlaufen Musiker_innen auch im Jazz hartnäckig fortlebende alte Geschlechterbilder und Hierarchien und was können Ausbildungsinstitute beitragen? Was bedeutet die Improvisation als " Kunst des Augenblicks" für neue Erzählungen der Jazzgeschichte und für künftige Begegnungen mit improvisierter Musik? In den Konzerten wollen wir diese Frage schließlich weiterbewegen und dem musikalischen Erleben dadurch eine neue Reflexionsebene hinzufügen.
Kommt in die Donau und diskutiert mit uns über die ganz großen Fragen, über Zeitlichkeit und Improvisation!
Die Diskussion startet um 18:30 mit folgender Gesprächsrunde:
Maike Hilbig
Anna Kaluza
Christopher Dell
Krystoffer Dreps
es moderiert: Niklas Alt (Donau115)
Um 20:30 hören wir dann die eine oder andere Improvisation von
Maike Hilbig
Anna Kaluza
Jan Leipniz
https://www.facebook.com/events/1552562164888102/
MEHR ZU UNSEREN PANEL-GÄSTEN:
Maike Hilbig
Maike Hilbig hat zwar Kontrabass studiert, aber man hört es nicht. Mit ihrem individuellen Zugang zu Spiel und Komposition hat sie die grauen Säle der Akademien weit hinter sich gelassen und ist ihrem eigenen Weg gefolgt. Musikalisch bewegt sie sich zwischen kontemporärem Jazz made in Germany und traditioneller freier Improvisation.
Anna Kaluza
Anna Kaluza studierte Jazz-Saxophon bei Frank Gratkowski an der Musikhochschule Köln, bei Klaus Dickbauer in Wien und bei Jean Toussaint an der Guildhall School of Music and Drama in London. Für das Studienjahr in London erhielt sie ein Stipendium des DAAD. Seit 2009 lebt sie in Berlin. Sie gründete das Berlin Improvisers Orchestra, ein sowohl frei als auch unter Anleitung improvisierendes 30-köpfiges Ensemble, und ist Mitglied des HANAM Quintetts, das demnächst seine dritte CD veröffentlicht (AUT records). Mit dem deutsch-polnischen Quartett Kaluza/Majewski/Mazur/Suchar veröffentlichte sie ein Album bei Cleanfeed Records. Anna spielt außerdem im Kaluza Quintett mit Christof Thewes, Jan Roder und Kay Lübke sowie in Christof Thewes' Little Big Band und in Ruth Schepers' Rusira Mixtet, einem achtköpfigen Bläser-Ensemble.
Christopher Dell
Christopher Dell (Dr. phil. habil.), ist Städtebau- und Architekturtheoretiker, Komponist und Musiker. Zur Zeit lehrt Dell Städtebau und Stadterneuerung an der Universität der Künste, Berlin.
Als Musiker und Komponist arbeitet Christopher Dell an der Schnittstelle zwischen zeitgenössischer komponierter und improvisierter Musik. Vor diesem Hintergrund hat er einen unverwechselbaren Stil entwickelt, sein Spiel und Werk besticht durch Reife und Persönlichkeit. Dell gilt laut Reclam Jazzlexikon als der führende Vibraphonist Europas, die FAZ nannte ihn den "größten Vibraphontechniker der europäischen Jazzgeschichte."
Krystoffer Dreps
Krystoffer Dreps hat Jazztrompete, Musiktheorie und Komposition in Berlin, Bogotá und Leipzig studiert. Nach verschiedenen Lehraufträgen ist er momentan künstlerischer Mitarbeiter für Musiktheorie, Komposition und Improvisation an der Musikhochschule Münster und an der Universität Oldenburg. Sein Solo-Projekt "Kübel&Fylter" verbindet die schönsten Melodien aus Neuer Musik, Jazz und J.S.Bach und zeiht diese immer wieder durch den elektronischen Drehwolf (www.kuebelundfylter.com). Verschiedene Veröffentlichungen zeigen zudem sein Interesse an genreübergreifenden Themen, die ein Epizentrum aus JazzKompositionImprovisationExperimentelles umkreisen (www.krystoffer.com)
AB 20:30 UHR FOLGT DAS KONZERT ZUR DISKUSSION:
Hilbig/Kaluza/Leipnitz – Jazz Bewegt
Das Konzert ist Teil der Konzert- und Diskussionsreihe "jazz bewegt".
An diesem Abend zum Thema "Improvisation und Philosophie".
18:30 – Diskussion
https://www.facebook.com/events/566930873773741/
20:30 Uhr – Konzert
HILBIG/KALUZA/LEIPNITZ
Anna Kaluza – sax
Maike Hilbig – bass
Jan Leipnitz – drums
Die Musik des Trios ist zu einhundert Prozent improvisiert, die facettenreiche Besetzung hält alles in der Schwebe, nur am Boden setzen sich hart erspielte Kompositionen ab, die an eine zeitgenössische Fusion von Neuer Musik und New Orleans Jazz anknüpfen sollen.