HEUTE!
Mittwoch, 06. Februar
MINUA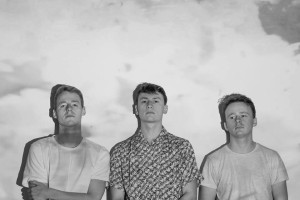 Fabian Willmann – bass clarinet
Kristinn Smari Kristinsson – electric guitar
Luca Aaron – electric guitar
MINUAs music presents itself in constant alteration, always searching for a manifestation of this subtle beauty that could hide itself in a seemingly unimportant detail. Inspired by renaissance and impressionism, nordic folklore and chamber music, jazz and avant‐garde, the musicians act as one unit, dedicating themselves to the collective sound. The borders between improvisation and composition lose their relevance while the only focus lies on the flow of the music. In interaction with the room and the audience their music creates sound‐poems, moments in time that are fugacious and impossible to reproduce, therefore leaving a
permanent impression.
MINUAs Musik prasentiert sich offen und stets im Wandel, immer auf der Suche nach einer Manifestation dieser subtilen Schonheit, die sich einem unscheinbaren Detail verstecken kann. Inspiriert von Renaissance und Impressionismus, nordischer Folklore und Kammer‐ musik, Jazz und Avantgarde, verschmelzen die drei Musiker zu einer Einheit, ordnen jegliches Ego dem Gesamtklang unter.
Die Grenzen zwischen Improvisation und Komposition verlieren an
Bedeutung, unteilbare Aufmerksamkeit gilt dem Fluss der Musik, die Interaktion mit Raum und Zuhorer erzeugt Tongedichte; Momente, die verganglich und nicht reproduzierbar bleiben und vielleicht gerade deshalb bleibenden Eindruck hinterlassen.
http://minua.net/
https://www.youtube.com/watch?v=HK0B7qmx8ws&t=82s
https://www.youtube.com/watch?v=5_Iob_fRu6E
https://minua.bandcamp.com/ https://soundcloud.com/minua
https://open.spotify.com/artist/3U2PO0T32kOCDiRkVii4sA
https://www.facebook.com/minuamusic/
https://www.instagram.com/minuamusic/
photo: Lea Schmitt
_______
Donnerstag, 07. Februar
Donau Conversations w/ Arditi / Adomeit / Ruppnig 
Tal Arditi – guitar
Matt Adomeit – bass
Mathias Ruppnig – drums
Donau Conversations is a monthly concert series presented by Berlin-based drummer Mathias Ruppnig. Each event will feature groups of varying styles and personnel, performing jazz standards, original music or free improvisation.
"For me, Donau115 is a place that allows new musical and personal friendships to form, as well as a place to experiment with innovative musical concepts in front of a respectful and attentive audience."
_______
Freitag, 08. Februar
Daniel Knox and Telesonic 9000
LISTEN TO THIS:
https://www.youtube.com/watch?v=xsGY_O2R0x0&t=432
LISTEN TO THIS TOO:
https://www.youtube.com/watch?v=p4P9Cal1z1I
A hotel ghost clattering away on a dilapidated old piano in the lobby? A phantom organist, hiding behind the movie projector and disappearing into the notes just when you turn around to see where that broken music came from? Who knows! The only thing you can say for sure about Chicago songwriter and composer Daniel Knox is that he's a nocturnal creature, a man who roams a city of dark corners and quiet beauty; a place not unlike Berlin, unstuck by time, where the lines between himself and the character driven personas of his music blur. From the snarling savagery of 'Cut From The Belly' to the unsettling joviality of the tongue-in-cheek 'Man Is An Animal' to the all-consuming heartache and irrational anger of "Chasescene", Knox journeys into and out of the lives of the good and the bad, the beautiful and the ugly; telling tales both close to home and entirely other, stories that are otherwise untold.
In 2007 when David Lynch was touring the country with his film Inland Empire he asked for a local musician to play a piece which led to Knox composing a droning instrumental piece to perform in front of his idol – Lynch looming over him from the stage as he played. This was seen by musician and art director David Coulter (Tom Waits, Damon Albarn, Yoko Ono) who immediately flew Knox out for his 'Plague Songs' event at the Barbican Centre in London. There, Rufus Wainwright and The Handsome Family heard him play – both of whom Knox would later work with and lead to further collaboration with Andrew Bird, Thor Harris (Swans, Bill Callahan), Richard Buckner and more.
Twelve years later, Daniel Knox is still on the run through the music and the night. His journey brings him to us at Donau115. This one is not to be missed, get here early!
MORE:
https://danielknox.com/watch/
 _______
Samstag, 09. Februar
Practically Married #13: Unlucky for some 
Practically Married #13: Unlucky for some…
…luckily for you this month we will be playing some HOT SWINGING JAZZ with the wonderful UK based drummer Jordan Dinsdale.
Declan Forde – Piano
James Banner- Double Bass
+
Jordan Dinsdale – Drums
James and Declan have been 'Practically Married' since April 2015, a name proudly awarded to them due to their ability to spend time together almost every day with only minor frustrations, and the fact that they play almost every concert together.
Since 2015 they have collaborated with Vilde&Inga, Tobias Delius, John Hollenbeck, Max Andrzejewski, João Lopes Pereira, Eric Vaughn and many more, and have become a regular fixture on the Berlin swing dance scene, performing with Ugo Alunni and The Good Old Good Ones. They also perform as part of other acts including the award-winning Rachel Sermanni and James Banner's USINE, and have performed sold out shows at Spiegesaal and Konzerthaus Berlin (with Fabiana Striffler and Mirna Bogdanovic) and Leeds Jazz Festival in 2018. Upcoming releases are planned for 2019 with Jordan Dinsdale & Will Howard (UK), as well as Toby Delius & Max Andrzejewski playing the music of Herbie Nichols.
They curate a monthly series at Berlin's Donau115, named 'one of the best jazz clubs in Europe' by The Guardian, and released their first album 'Circus' featuring João Lopes Pereira in October 2018.
https://jamesbanner.com/practicallymarried/
https://practicallymarried.bandcamp.com/album/practically-married-jo-o-lopes-pereira-circus