HEUTE!
Mittwoch, 17. April
Sölvi Kolbeinsson – sax
Vincent Audusseau – piano
Hamamelidae is a newly formed duo consisting of Icelandic saxophonist Sölvi Kolbeinsson and French pianist Vincent Audusseau. The two friends met in Berlin in 2016 and after collaborating together on different projects they performed for the first time as a duo in Summer 2018. Since then, they continue to play together with infinite possibilities opened up by this new experience. Their music navigates through different sketches connected by the link of improvisation. Hamamelidae explores with curiosity the multiple soundscapes that their instruments can create together, blending softly in time their sounds and personalities.
Music:
https://www.youtube.com/watch?v=18smUAW71Ac
Photos: Lea Schm
_______
Donnerstag, 18. April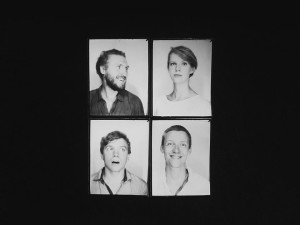 Pauline Peek – vocals
Aidan Lowe – drums and percussion
Sidney Werner – bass
Paul Santner – guitar
Bitter Blond is a new band with an old soul, consisting of Paul Santner, Sidney Werner, Aidan Lowe and Pauline Peek. They are four of Berlin's finest young jazz musicians, who found each other in their passion for Brazilian music and swing. They perform a selection of music ranging from traditional sambas to nearly-forgotten jazz standards, but the overarching theme is pure, unbridled joy in playing beautiful songs that tell a story. The playfulness and energy they bring to the music will captivate any listener and, at times, will make it hard to sit still.
https://www.youtube.com/watch?v=lqWe2QWBmfc
_______
Freitag, 19. April
Donau Conversations w/ Osypov / Henkelhausen / Ruppnig 
Igor Osypov – git/laptop
Felix Henkelhausen – bass
Mathias Ruppnig – drums
Donau Conversations is a monthly concert series presented by Berlin-based drummer Mathias Ruppnig. Each event will feature groups of varying styles and personnel, performing jazz standards, original music or free improvisation.
"For me, Donau115 is a place that allows new musical and personal friendships to form, as well as a place to experiment with innovative musical concepts in front of a respectful and attentive audience."
_______
Samstag, 20. April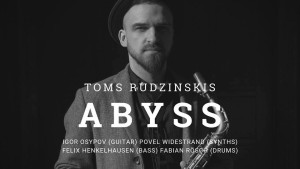 Toms Rudzinskis (LV) – compositions, sax
Igor Osypov (UA) – guitar
Povel Widestrand (SWE) – synths
Felix Henkelhausen (DE) – bass
Fabian Rösch (DE) – drums
New acoustic/electronic improvised jazz project "Abyss" featuring some of the Berlin's finest musicians. A fusion of avant-garde and jazz exploring the possibilities of electronics. Heavily rhythmic and melodic, incorporating the improvised and unexpected. Come, dive in!
___
Toms Rudzinskis is one of the leading innovative Baltic saxophone players and composers with a unique sound in his performance and compositions. Leading his own band or performing as a well-respected soloist and sideman, currently resides in Berlin and travels across Europe to perform, collaborate and educate.
Graduate of prestigious Conservatorium van Amsterdam, besides numerous jazz and classical music awards, Toms has been chosen as the Best Soloist at the international big band competition "Meer Jazz", and won the "Keep an Eye" Jazz award with the quartet "North by Northeast". In 2012, selected as the Jazz ambassador of the internationally recognised venue Bimhuis. In 2013 won the Grand Prix in the prestigious "Burghausen Jazz competition" with "Matiss Cudars quartet", which led to an opportunity to share the stage with internationally recognized Cassandra Wilson. In 2015 won the "Dutch Jazz Competition" Grand Prix with Loran Witteveen quintet which led to a tour in 2016 covering the biggest venues in The Netherlands.
In 2014 Toms released debut album "ABRA" that got nominated for the Latvian Grammy Award "Zelta Mikrofons" in two categories – "The Best Jazz album" and "The Best Debut" and gaining a wider recognition and following in his homeland. Another "The Best Jazz album" nomination followed in 2017 with the release of a unique vinyl recording "Locomotion!" with the award-winning Austrian trumpet player Gerhard Ornig.
New album with quintet "ABYSS" coming spring 2020.
Kate Elpo