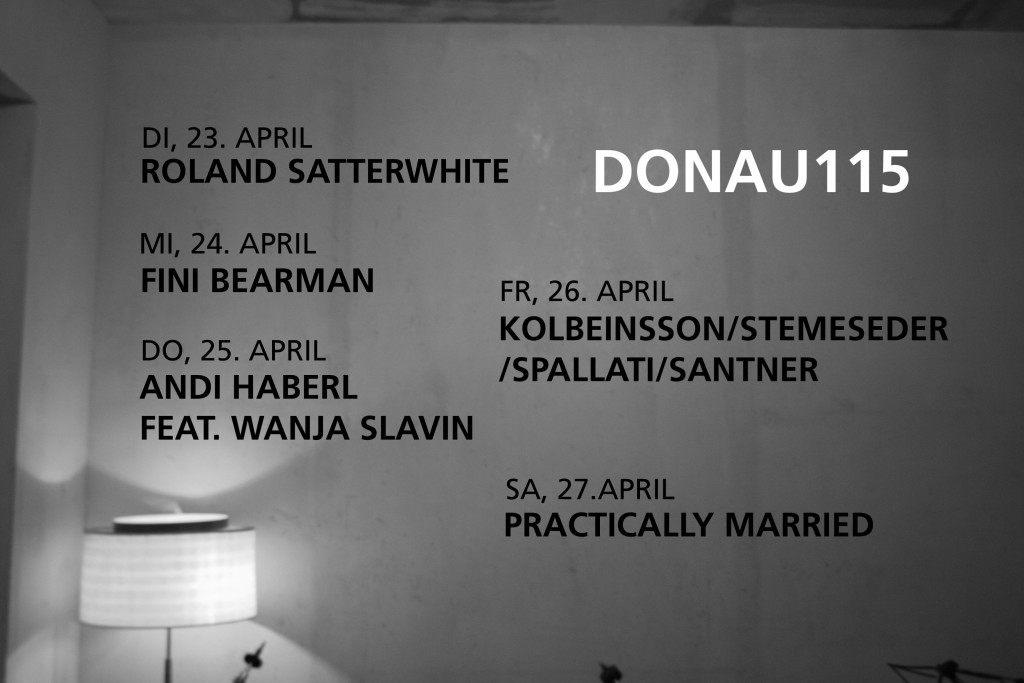 Dienstag, 23. April  Roland Satterwhite Solo
Mittwoch, 24. April  Fini Bearman
Donnerstag, 25. April  Andi Haberl meets Wanja Slavin and Felix Henkelhause
Freitag, 26. April  Kolbeinsson/Stemeseder/Spallati/Santner
Samstag, 27. April   Practically Married #15: Clowns
// // // // //
HEUTE!
Dienstag, 23. April
Roland Satterwhite is an American Violinist/Violist and Singer.
He performs his original songs solo with the help of pedals and the occasional sparing use of a loop machine. His songs are largely inspired by Delta Blues and west African Kora and Griot music traditions but have the authenticity of an artist who has found his own voice. Roland has developed his own way of plucking the viola that is unique, and has lyrics covering subjects from political upheaval to love to animals. He also performs his original material with his trio, Tolyqyn.
As a violinist, Roland has toured internationally and collaborated with musicians as diverse as Albita, Pedrito Martinez, Ariacne Trujillo (USA), Pupy y los que Son Son (Cuba), Marta Gomez, Agujetas Chico, Jorge Pardo (Spain), Marta Topferova (Czechia) Django Lassi (Germany) Fanfara Kalashnikov (Germany/Romania).
Aside from composing and performing, Roland is an arranger, producer, teacher, recording engineer, and makes music videos.
Tal Arditi will join roland on guitar. Tal recorded his debut album "Portrait", live at "A-Trane" jazz club, together with Andreas Lang on Bass and Tobias Backhaus on Drums.
links (videos, music, website)
https://www.facebook.com/freestylinviolin/
https://www.youtube.com/watch?v=WLLamY1JJnU
_______

Mittwoch, 24. April
Fini Bearman – voice, guitar, piano and loop station
Ben Barritt – guitar, voice
London-based Singer/songwriter Fini
Once upon a time Berlin dweller, now London-based, singer/songwriter Fini Bearman brings an acoustic collection of intimate songs to Donau, together with Berlin-based guitarist and singer/songwriter Ben Barritt. Sometimes dealing with settings of poetry or pre-existing texts, and other times with original lyrics or open, wordless evocations, this music is honest yet witty, mixing lush harmony and orchestration with contemporary grooves. These songs blur the lines between songwriting and jazz, melding influences from contemporary crossover artists such as Esperanza Spalding and Becca Stevens to the songwriting canon of the 1970s: Paul Simon, Joni Mitchell and David Bowie.
Fini's third studio album 'Burn the Boat' was released in Autumn 2016 and received rave reviews from both the UK and European Jazz press, including; '…A stunning album..A thing of unsurpassed beauty. One of the most memorable collections of self-penned songs you'll hear this year' **** 'recommended'/album of 2016/ (Jazzwise), 'Exquisitely sung…Top compositional form'(Allaboutjazz.com). The album has had extensive radio play on BBC 2, 3, BBC London, BBC Cambridge, Kent, Resonance FM and BR Klassik.
Watch/listen->
instagram.com/feenzbeenz
www.finibearman.com
soundcloud.com/finibearman
https://www.youtube.com/watch?v=ydxrphnyTOg
https://www.youtube.com/watch?v=rjFTm7Bi6fk

_______

Donnerstag, 25. April
Andi Haberl meets Wanja Slavin and Felix Henkelhausen


Andi, Wanja und Felix spielen eigene Stücke und Standards, die sie mögen.
Diese Besetzung verspricht viel Spielfreude, Dynamik, Spannung und Energie!
Wanja Slavin – Saxophon
Felix Henkelhausen – Kontrabass
Andi Haberl – Schlagzeug
https://www.facebook.com/andi.haberl
http://www.wanja-slavin.de
https://www.facebook.com/felix.henkelhausen

_______

Freitag, 26. April
Kolbeinsson/Stemeseder/Spallati/Santner
Sölvi Kolbeinsson – Alto Saxophone
Elias Stemeseder – Piano
Igor Spallati – Bass
Max Santner – Drums
eliasstemeseder.com
maxsantner.com
https://soundcloud.com/user-257819330
_______

Samstag, 27. April
Practically Married #15: Clowns
Practically Married #15 at Donau115: CLOWNS
This month's concert is brought about due to an irrational fear of clowns. If you're also scared of clowns then this is the gig for you as there will be no clowns involved.
We will be playing some HOT SWINGING JAZZ with the wonderful UK based drummer Jordan Dinsdale- no clowns, guaranteed!
Declan Forde- Piano
James Banner – Double Bass
Jordan Dinsdale- Drums
____________________
James and Declan have been 'Practically Married' since April 2015, a name proudly awarded to them due to their ability to spend time together almost every day with only minor frustrations, and the fact that they play almost every concert together.
Since 2015 they have collaborated with Vilde&Inga, Tobias Delius, John Hollenbeck, Max Andrzejewski, João Lopes Pereira, Eric Vaughn and many more, and have become a regular fixture on the Berlin swing dance scene, performing with Ugo Alunni and The Good Old Good Ones. They also perform as part of other acts including the award-winning Rachel Sermanni and James Banner's USINE, and have performed sold out shows at Spiegesaal and Konzerthaus Berlin (with Fabiana Striffler and Mirna Bogdanovic) and Leeds Jazz Festival in 2018. Upcoming releases are planned for 2019 with Jordan Dinsdale & Will Howard (UK), as well as Toby Delius & Max Andrzejewski playing the music of Herbie Nichols.
https://jamesbanner.com/practicallymarried/
Practically Married + João Lopes Pereira – Circus is available on Bandcamp.
https://practicallymarried.bandcamp.com/releases