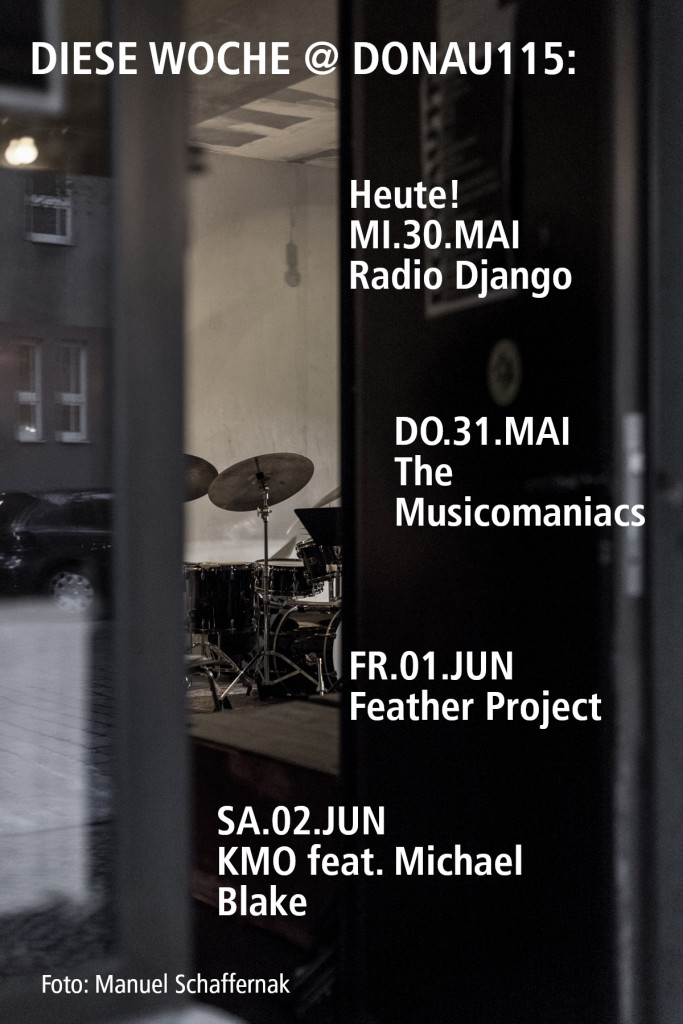 HEUTE ABEND!
Mittwoch, 30. Mai
RADIO DJANGO
Radio Django – formerly known as the Stachelites – return to Donau115! Comprising of top solo guitarist Janko Lauenberger (Sinti-Swing Berlin / Martin Weiss Family Band) and violinist Daniel Weltlinger (Lulo Reinhardt Latin-Swing Project / Karsten Troyke) with a driving rhythm section consisting of Giovanni Steinbach and Santino Bamberger on rhythm guitars and Max Hartmann on double bass the Berlin band recreate and renew the original 'hot-club' sound of Django Reinhardt and Stephane Grappelli playing straight from the tradition firmly placed in the 21st Century Gypsy-jazz with a new sound in a new age from a renewed city.
Radio Django – früher bekannt als Stachelites – kehrt nach Donau115 zurück! Bestehend aus dem Topsolo Gitarristen Janko Lauenberger (Sinti-Swing Berlin / Martin Weiss Familienband) und dem Geiger Daniel Weltlinger (Lulo Reinhardt Latin-Swing Projekt / Karsten Troyke) mit einem driving rhythm section bestehend aus Giovanni Steinbach und Santino Bamberger an Rhythmusgitarren und Max Hartmann am Kontrabass Die Berliner Band bildet den originalen "Hot-Club" -Sound von Django Reinhardt und Stephane Grappelli nach und spielt ihn aus der Tradition des 21. Jahrhunderts Gypsy-Jazz mit einem neuen Sound in einer neuen Zeit aus einer erneuerten Stadt.
Donnerstag, 31. Mai
THE MUSICOMANIACS

Dima Bondarev- Trumpet
Eldar Tsalikov- Alto Saxophone
Laurent Humeau- Clarinet
Declan Forde- Piano
Igor Spallati- Double Bass
Ugo Alunni- Drums
https://www.youtube.com/watch?v=xU7LHiwmh6g
https://www.youtube.com/watch?v=2_GWYB3eaGM
https://www.youtube.com/watch?v=VuNYhSlQOj4
The musicomaniacs are a berlin-based swing band. The Sextet brings together top musicians from several groups who have already earned considerable renown on the local and international jazz scene, offering an unprecedented level of excellence in the genre . As Their first concert series, the band is thrilled to revive the music of legendary jazz bassist John Kirby, known for his exciting and meticolous arrangements. Drawing from both classical and jazz composers, Kirby assembled an outstanding swing repertoire that quickly enthralls today's audiences. A combination of technical virtuosity, familiar melodies, and tight rhythms, this music is perfect for both the discerning listener and the jazz neophyte.
https://www.facebook.com/The-Musicomaniacs-1000777736744246/
Freitag, 01. Juni
FEATHER PROJECT

"Feather Band" :
Esther Kaiser – vocals/ sounds
Franz Bauer – Vibraphon
Rüdiger Krause – Gitarre/ Loops
Birgitta Flick – Saxophon
Mehr unter www.estherkaiser.de
https://soundcloud.com/stheraiser/carlos
https://soundcloud.com/stheraiser/funny-bird-song
https://soundcloud.com/stheraiser/song-without-words
Man nehme eine Stimme, eine Gitarre, ein Saxophon und ein Vibraphon und jede Menge toller Songs – und dann den Mut und die musikalische Freiheit in dieser Besetzung alles Mögliche auszuprobieren, Grenzen auszuloten und Spontaneität und Form gleichberechtigt nebeneinander existieren zu lassen. Und all dies federleicht klingen zu lassen.
Vier Liebhaber des feinen Klangs haben sich in dieser Formation zusammengetan: Die Jazzsängerin und Vokalkünstlerin Esther Kaiser, der Vibraphonist Franz Bauer, Gitarrist Rüdiger Krause und die Saxophonistin und Komponistin Birgitta Flick. Diese vier Individualisten und Klangzauberer schaffen gemeinsam eine dichte Atmosphäre aus Groove, Sound und improvisatorischen Überraschungsmomenten und erfinden Musik im besten Sinne des Wortes neu und spielen neben eigenen Kompositionen u.a. Stücke von Carla Bley, Pink Floyd, David Bowie, Sting und Abbey Lincoln.
Samstag, 02. Juni
KMO feat. MICHAEL BLAKE

KMO
Music for Trio + Very Special Guest
Christian Kögel: guitar/dobro
Marc Muellbauer: bass
Hans Otto: drs
Feat.: Michael Blake (NYC) sax
https://www.youtube.com/watch?v=l0ZIle809Rw
https://www.youtube.com/watch?v=stXMxRaGdPU
https://www.youtube.com/watch?v=3YEThd1dQQQ
Wir freuen uns auf das Zusammentreffen unseres Trios mit unserem besonderen Gast:
Saxophonist Michael Blake explores the nooks and crannies of jazz. He commands a wily style that might evoke an elder, snap at a hard bop riff or blast off to the interstellar. He's a been a mainstay in the New York scene for over 30 years and has over a dozen albums out under his name. Among the many artists he has performed with are The Lounge Lizards, Steven Bernstein, Lonnie Smith, Charlie Hunter and Ben Allison.
Wir spielen:
Eigen- und Fremdkompositionen, Klassik- und Pop-Adaptionen. Alles, was Platz lässt und bietet für Dialog und Spontan-Entscheidungen, für Musizieren im Moment.
Im Bandbuch befinden sich momentan: I'm not in love (10cc), Beit Hanun (H. Otto), Salon Saloon (Gonzalez), The Poet (M. Muellbauer), Lil' Darlin' (Count Basie), Crisis, What Crisis? (C. Kögel), Countdown (J. Coltrane), Caroline No (Beach Boys), Teardrop (Massive Attack), Cool (L. Bernstein), Pyramid Song (Radiohead) u.a.
Christian Kögel lebt seit 1990 in Berlin und und gründete im selben Jahr sein eigenes Trio, mit dem er mehrere Jazzpreise in Deutschland gewann. Er studiert 1990 – 1994 klassische Gitarre an der Hochschule der Künste, Berlin, und die Stromgitarre am Jazzfachbereich der HdK, Berlin, (1991 – 1996). Von 1998 – 2000 lernt er Oud und traditionelle arabische Musik bei dem syrischen Oud-Virtuosen Farhan Sabbagh.
Christian Kögel musiziert und produziert im Spannungsfeld zwischen Jazz, Singer/Songwriter, Kammermusik und traditioneller arabischer und afghanischer Musik, als Mitglied diverser Berliner Bands (flexkögel, Paul Brodys Sadawi, Edward Macleans Adoqué, Wood & Steel Trio, Mattar 4, Lauer Large, Marc Muellbauers Kaleidoscope, Nasser Kilada & Ranin, Jazzanova live, Kempendorff/Lauer/Kögel, u.a.), sowie überregionaler Formationen (Jerry Granelli V-16, DJ Stinkin' Rich, Simon Fisk Trio, Safar (mit Musikern in Afghanistan) …), mit denen er zahlreiche CD`s veröffentlichte. Mehrere Tourneen führten ihn in die USA und Kanada, nach Rußland, Israel und im Auftrag des Auswärtigen Amtes der BRD nach Bosnien-Herzegowina, Serbien und Albanien sowie nach Afghanistan (2013 & 2014). Er konzertierte u.a. auf Jazzfestivals in Ottawa, San Francisco, Halifax, New York, Iowa City, Vancouver, Montreal, Jakarta.
Der in London geborene Marc Muellbauer ist Mitglied des Julia Hülsmann Trio, das seit 2008 fünf Produktionen beim Münchener Label ECM veröffentlicht hat. Die aktuelle Aufnahme ist "A Clear Midnight" im Quintett mit dem britischen Trompeter Tom Arthurs und dem New Yorker Theo Bleckmann. Muellbauer hat 2012 mit dem Lisbeth Quartett einen German Jazz Echo als beste deutsche Newcomer Band erhalten. Neben zahlreichen Aktivitäten als Sideman, schreibt und arrangiert er für seine 9-köpfige Band Marc Muellbauer's Kaleidoscope. Ganz neu ist die Arbeit mit dem Wood & Steel Trio, einer rein akustischen Band mit Marimba- und Vibraphon, Bass und Dobro…
Hans Otto ist ein in Leipzig lebender vielseitiger Jazz/Rock und Pop Schlagzeuger und Lehrer. 1986 in Ost-Berlin geboren und aufgewachsen, nahm Hans im Alter von 6 Jahren ersten Schlagzeugunterricht. Hans studierte Schlagzeug an der HfM in Weimar und HMT in Leipzig. Hans engagiert sich im seit 2013 wirkenden Jazzkollektiv Leipzig. 2014 verbrachte Hans ein Semester in Jerusalem (Israel). Aktuell ist Hans in folgenden Projekten zu hören: Welcome Inside the brain, Flexkögel, Lily and the rats, Killerfuchs, LUMAT und Paul Lapp – Forum
https://soundcloud.com/christian-k-gel/kmo-live-teaser
www.michaelblake.net
www.christiankoegel.net
www.marcmuellbauer.de
www.hansottomusik.de