Mittwoch, 16. Mai
CARBOARD SWORDS SOLO / VAN TASSEL / NÉANT
Néant (1st set, trio)
https://neantband.bandcamp.com/releases
_Néant is Nothingness
_Creating soundscapes with emptiness,
Putting a sphere between notes.
Melodic, psychedelic, ambient elements and long evolving structures as an orbit for our songs. Surrounded by layers of Rock and Melancholy. Tearing the depth of sounds and tempting their limits.
// //
Van Tassel (2nd set, solo)
Bandcamp: https://vantassels.bandcamp.com/releases
Van Tassel's Uncanny Elixir is the solo music project of multi-instrumentalist Gavin Brown. Concocting a gallimaufry of sundry romantic genres such as baroque pop, world music, and indie rock, Van Tassel aims for an eccentric, dreamy soundscape dazzled with nostalgic imagery, powerful choral vocals, and the orchestral resonance of yesteryear.
Facebook: https://www.facebook.com/pg/VanTassels/about/?ref=page_internal
// //
The Cardboard Swords (3rd set, solo)
Website: www.thecardboardswords.com
Das neue und im April überraschend herausgebrachte Album "Once More, There Is Nothing Left to Figure Out" der Band ist ab sofort auf und in allen Major Verkaufsstellen und Streamingportalen erhältlich und zu hören.
Damit beweist die Band aus dem Land der unendlichen Möglichkeiten, einmal mehr ihre Fühler für tiefgehende, schmerzliche Lyriks und eingängige, folkige Emo-Rock-Punk Tunes.
Realitätsnah,weltfremd, ironisch und ehrlich verschwimmen die Grenzen der Musik von The Cardboard Swords, wo eigentlich gar keine sind.
Facebook: https://www.facebook.com/TheCardboardSwords/
Donnerstag, 17. Mai
MELT TRIO

MELT TRIO
Peter Meyer – guitar, electronics
Bernhard Meyer – bass
Moritz Baumgärtner – drums, gongs, megaphones
www.melttrio.com
ARTE TRACKS FEATURE (from the old Donau115):
https://www.youtube.com/watch?v=4uqyWe4g-LI
https://www.youtube.com/watch?v=oFozQyQSf3I
MAKING OF "HYMNOLIA"
https://www.youtube.com/watch?v=52j9GpzouL0
LIVE IN DELHI (INDIA):
https://www.youtube.com/watch?list=PLdRYPofZi1_qRyTLuHIJCiH1YzCLb_Hts&v=sUWovz2Q0nU
"In den letzten Jahren hat sich das Melt Trio zu einem der wichtigsten und innovativsten Gitarrentrios entwickelt. Mit ihrem progressiven und einzigartigen Sound begeistern sie Fachwelt, Musikliebhaber und Konzertbesucher seit 2010. Nach den hoch gelobten Alben "Melt" und "Hymnolia" veröffentlichte das Melt Trio Ende 2016 ihr drittes Album "Stroy". Eine Wortschöpfung, die das erdachte Gegenteil von "destroy" impliziert. Auf diesem Album und in den mehr als 50 Konzerten seit dessen Veröffentlichung, haben die drei Berliner ihren speziellen Stil weiter ausgefeilt und zeigen in Details noch stärkeren Gestaltungswillen. Ihre Verbindung von akustischen und elektronischen Sounds wirkt subtiler denn je, konkrete Einflüsse von Jazz und Klassischer Moderne bis Post- und Prog-Rock sind allenfalls schemenhaft auszumachen, weil die Musik einfach nach Melt Trio klingt. Es ist und bleibt ein Gitarrentrio, das ohne jeden Vergleich auskommt. Melt ist weder Nirvana auf Jazz noch Bill Frisell Trio in Rock und auch nicht Massacre in Ambient. Melt ist Melt, einzigartig, individuell, packend und ergreifend."
ARTE Tracks portraitierte das Melt Trio live in Berlin. Gemeinsam als Band und darüber hinaus arbeiteten die drei Musiker mit Jazzgrößen und Electronics Pionieren wie Jim Black, Jan Bang, Theo Bleckman, Gebrüder Teichmann, Kurt Rosenwinkel, Nasheet Waits oder Tony Malaby.
"… an ongoing variation on the guitar trio involving a highly personalized mixture of jazz, rock and atmospherics."
DownBeat Magazin
"Das Melt Trio setzt einen Wegweiser in die europäische Musiklandschaft." (FAZ)
"Das Melt Trio spielt und schreibt eine Musik, die so voller Leben ist, dass man gar nicht genug von ihr bekommen kann…
Diese Musik ist provokant, fordernd, besitzt Tiefgang und Ausdrucksdichte. Sie ist mal kantig, unbequem und unkonventionell, widerlegt mit überzeugendem Gestus sämtliche im Jazz vorherrschenden Dogmen und ist dennoch von schmeichelnder und verführerischer Kraft und Schönheit."
Jazzpodium
Freitag, 18. Mai
HORNUNG SESSIONS w/ LANG / RUPPNIG
At this concert i will play compositions that i wrote for my "Hornung Trio", but this one time not with my usual musicians Phil Donkin and Bernd Oezsevim, but with Andreas Lang and Mathias Ruppnig, since we will give a concert in this line-up at the Jazz Rally Festival in Düsseldorf the next day.
I played my stuff with Andreas or with Mathias quite some times in several formations, but never with both of them together, so i'm looking forward to see how they will interpret my origins and how we will sound together.
Ludwig Hornung – Piano, Compositions
Andreas Lang – Bass
Mathias Ruppnig – Drums
Samstag, 19. Mai
GREGOR LENER QUARTETT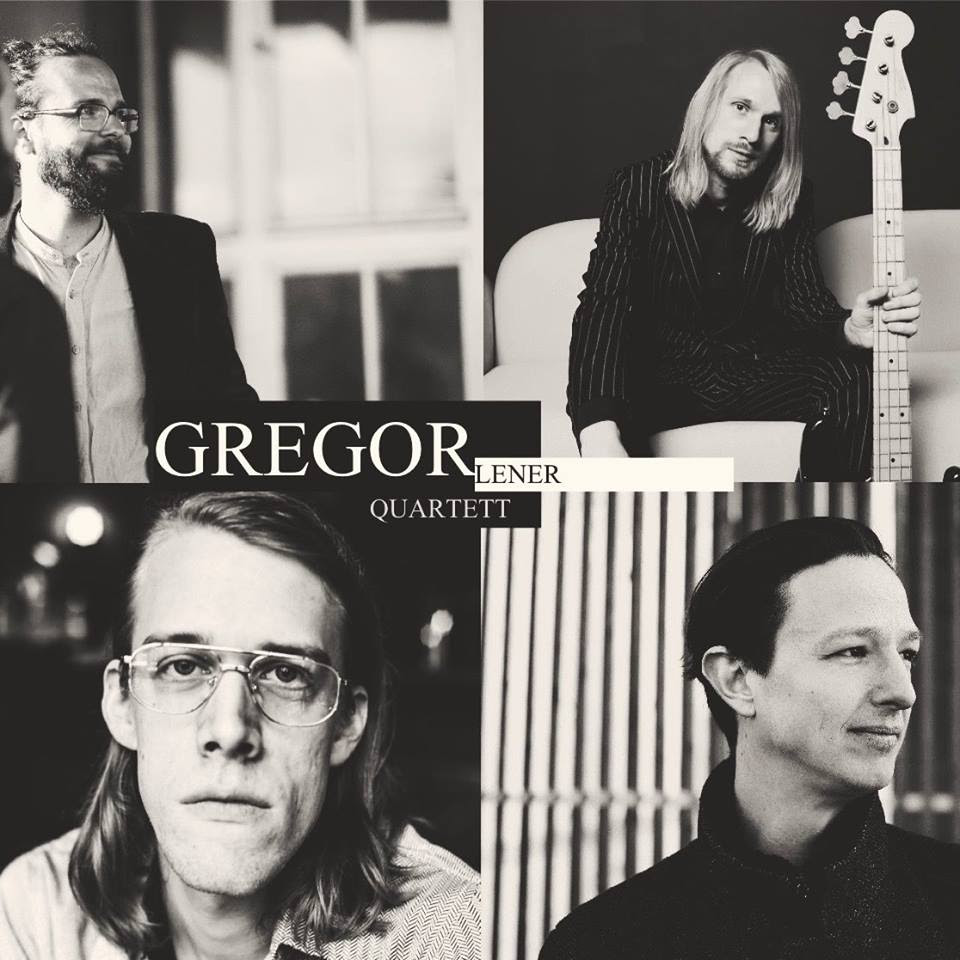 Gregor Lener Quartett
Gregor Lener – Trompete
Bernhard Ludescher – Klavier
Felix Barth – Bass
Markus Daßau – Schlagzeug
"…ein Trompeter, der in seiner schlichten Begleitung auffällt und der die bestehenden Freiräume mit ungewöhnlichem Einfühlungsvermögen ausfüllt."
So schrieb einst die Jazz Podium über den jungen Trompeter zu den Aufnahmen des mit einem Echo ausgezeichneten Albums "Heart of Darkness" von Natalia Mateo.
Schlichtheit und Empathie sind für Gregor Lener wichtige Bestandteile in seiner Musik. In Verbindung mit eingängigen Melodien und tragender Energie bettet er seine Ideen in elektronische und experimentelle Musik aus Jazz- und Funkelementen ein. Dabei lassen die vier Musiker sich ihre Freiräume, um gemeinsam strukturelle Formen aufzubrechen.
Mit Bernhard Ludescher am Klavier verbindet Gregor Lener eine lange Freundschaft aus seiner frühen Funk-Periode in Innsbruck. Es folgte die Verbindung mit dem Schlagzeuger Markus Daßau über das Studium in Osnabrück und schließlich die Zusammenarbeit mit Bassist Felix Barth im Rahmen von Natalia Mateo.
Sie alle begleiteten Gregor Lener auf seinen musikalischen Stationen. Nun in Berlin lebend und wiedervereint, wurde der Ruf nach diesem Bandprojekt laut.
Die Freude ist groß, in der Donau115 damit starten zu können!