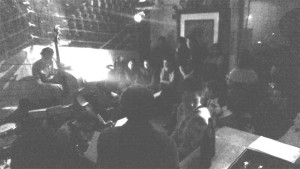 Shows at DONAU115 are dense, intense encounters with some of Berlin's most exciting improvisational and jazz musicians, genre-bending songwriters, performance artists, DJs, and multimedia experimenters. We offer a packed schedule of evening events every week, and often feature acoustic performances during our daytime café as well. Audiences are as effervescent as the music, as renown jazz heavyweights mingle with young students, expatriate writers, and creative agitators from around the globe.
All currently-scheduled events are listed in the sidebar to the right. –> –> –> –> –>
To enquire about booking, please send a message to info@donau115.de.